John Daniels, former executive director of the International Lutheran Laymen's League, died of cancer Nov. 10 at his home in Sherwood Park, Alberta, Canada. He was 76.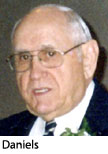 A memorial service was held Nov. 15 at Bethel Lutheran Church, Sherwood Park; a private funeral and burial was held the day before.

Daniels served as executive director of the Int'l LLL (now also known as Lutheran Hour Ministries) in St. Louis from 1978 to 1987 before becoming dean of development and seminary relations at Concordia Lutheran Seminary in Edmonton, Alberta.

Prior to serving the Int'l LLL, he was director of the Canadian Lutheran Laymen's League from 1973 to 1978 and was instrumental in that office's growth.

Daniels also served the LLL as a member of its board of directors, chairman of "The Lutheran Hour" committee, and district president, vice president, board member, and secretary. He also served as president and secretary for his local LLL group.

Survivors include his wife, Dena, and children Brian and Jennifer.
Posted Nov. 16, 2005