Dr. James C. Gamaliel, renowned Lutheran evangelism leader and former seminary president in India, died Oct. 4 in a Trivandrum hospital after a three-week illness. He was 79.
Dr. Herbert Hoefer, regional director for India and Sri Lanka with LCMS World Mission, called Gamaliel "a great theologian and evangelist who will be greatly missed."
Gamaliel was president of Concordia Theological Seminary, Nagercoil, India, from 1978 to 198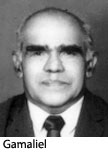 3, and a member of the faculty there (1971-90). He also will be remembered as adjunct professor at Concordia University, Irvine, Calif., and Concordia Theological Seminary, Fort Wayne.

Since his retirement in 1990, he founded and served as director of the Bethel Theological Institute, Trivandrum, which conducts research and evangelism projects with scholars and students in India.
He earned double doctorates from Fuller Theological Seminary, Pasadena Calif. (1974), and the University of Glasgow, Scotland (1990). He also earned the S.T.M. from Concordia Seminary, St. Louis, in 1974.
"Dr. Gamaliel's commitment to the Great Commission was evidenced in his evangelism work as student pastor at the University of Southern California and in his vision … as he spoke to dozens of audiences to establish Concordia University, Irvine," said Dr. Charles Manske, founding president of Concordia, Irvine.
Manske recalled that a faculty member in India spoke of Gamaliel as having "uncompromising reverence to confessional Lutheranism as well as personal evangelism and [that he was] unashamed to cry out against the growing liberalism of theology."
Among Gamaliel's survivors are two grown daughters. His wife, Ivy, died four years ago.
Posted Oct. 27, 2005