"In Life, in Death, Abide with Me" is the theme of the new "Life Sunday" materials from Lutherans For Life (LFL). The materials are produced annually to assist congregations in observing "Life Sunday," which marks the anniversary of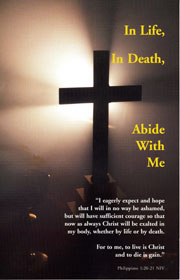 the Roe v. Wade Supreme Court decision that legalized abortion in the United States.

The next "Life Sunday" falls on Jan. 22, the 33rd anniversary of Roe v. Wade. But the 2006 resources may be used on any Sunday during the year.

LFL mailed a sample packet of the new resources this fall to congregations on its mailing list and to its state and local chapters.

In his cover letter with the packet, LFL Executive Director James I. Lamb quotes St. Paul in Phil. 1:20b: "Christ will be exalted in my body whether by life or by death."

"It is not his circumstances that give Paul such assurance and hope — it is the abiding presence of Christ in his circumstances," writes Lamb. "Christ will be at work and exalted if Paul should die, and Christ will be at work and be exalted if Paul should live. What a message to share with God's people as they struggle with issues of life and death. They are not alone. Their Savior is at work in all circumstances of their lives, and He is at work for their spiritual good.

"Our prayer is that this year's Life Sunday materials will help share this message."

Like last year, most of the new materials also are available free online in PDF format as a way "to make our materials easily accessible to as many congregations as possible," Lamb told Reporter. "We want God's message of life to be shared. We will help congregations do that in any way we are able."

New for the 2006 observance are four "life sermons," available in print and on compact disk, that may be used "as is" or as resource material:
"More to Suffering than Meets the Eye" (Heb. 2:8b-10), written by Dr. Richard Eyer, director emeritus of the Concordia Bioethics Institute, Mequon, Wis. Whether dealing with end-of-life issues or struggles in the midst of life, the cross of Jesus helps make sense out of our suffering, says Eyer.
"In Life, In Death, Christ is Exalted" (Phil. 1:20-26), by Lamb. Christ is exalted not by what we do but by what He has done for us, says Lamb. So every life is a life through which Christ can be exalted.
"In Life, in Death, Abide in Me" (Phil. 1:20-21), by Dr. Glenn Schaeffer, president of Lutherans For Life — Canada, based in Edmonton, Alberta. Those who end their own lives need "to know of the God of love and grace who gives us reason to live even when we experience the worst of times," says Schaeffer.
"Reluctant Messenger — Powerful Message" (Jon. 3:1-5, 10), also by Lamb. "We have such a powerful and positive message of life," through the Gospel, that we need not be "reluctant messengers of life," he says.
The CD (item no. 1818P, $3.50) includes all four sermons, plus a children's message and worship-service material. A print "sermon pack" also is available (item no. 1818, $3.50).
Other new "Life Sunday" resources include:
bulletin inserts (item no. 810BI, 7 cents), including one "Just for Kids" (item no. 713BI, 7 cents).
Bible study, "Where Death and Life Meet" (item no. 811BS, 25 cents), written by Rev. Todd Wilken, host of "Issues, Etc.," heard daily on The Lutheran Church–Missouri Synod's St. Louis-based radio station KFUO-AM.
worship-service format (item no. 1821, 15 cents).
children's message, "God Loves Life," with sheet music (item no. 1828, 50 cents).
14-minute DVD, "For Life," with accompanying Bible study (item no. 1704, $5).
A number of other resources also are available from LFL, including bulletin inserts, a "memorial service for the pre-born killed since 1973," booklets on advance directives and other end-of-life issues, and a manual on Living with Dying.
To order a free sample packet of "Life Sunday" resources or for other material, contact LFL at (888) 364-LIFE (5433), or orders@lutheransforlife.org. To order or print resources from the LFL Web site, click here.
Posted Nov. 16, 2005