"For Life" is a new 14-minute DVD available from Lutherans For Life (LFL) that presents the pro-life organization's Gospel-centered message.

An accompanying study guide converts the DVD into a Bible study that may be used to introduce LFL t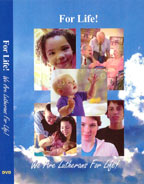 o pastors, Sunday schools, day schools, congregations, and other church groups.

"For Life" features interviews with people active in Lutherans For Life and others whose lives have been touched by LFL and its life-affirming message. Included in the interviews is an update on Micki Cunningham, whose story was a highlight of the 1998 edition of "For Life."

Lowell Highby, LFL's communications director, told Reporter that although an earlier VHS tape ofered by LFL had the same title, the material in this "For Life" DVD "is about 99 percent brand-new."

Extras on the disk include extended interviews and a new arrangement of "God Loves Life," the "For Life" theme song.

The DVD also is available on request in a closed-caption version.

To order the new "For Life" DVD (Item 1704, at $5 per copy, plus shipping) or to see images from it, click here. Or, order by calling (515) 382-3020, or writing Lutherans For Life, 120 S. G Ave., Nevada, IA 50201-2774.

Each LFL state federation, chapter, and Life Ministry coordinator also has received a free copy of the DVD.
Posted June 30, 2005