Rev. David L. Mahsman of St. Louis and Dr. Paul Mueller of St. Paul, Minn., have accepted calls from LCMS World Mission.

Mahsman, former executive editor of Reporter and The Lutheran Witness, began serving June 9 as assistant to Executive Director Robert Roegner. Among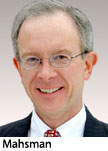 his duties in the new position, Mahsman will assist Roegner in all facets of the Ablaze! initiative and with a variety of communication tasks. He also will work with LCMS World Mission's leadership team in the implementation of its strategic plan.

Mahsman, 54, was editor of the Synod's official periodicals for nearly 20 years, from 1985 until March of this year. He is a 1972 graduate in journalism from Southern Illinois University, Carbondale; a 1983 graduate of Concordia Theological Seminary, Fort Wayne; and earned the S.T.M. at Concordia Seminary, St. Louis.

Mueller begins serving Aug. 1 as regional director for Africa, one of four regional director posts worldwide. That position has been vacant since 2003, although Rev. Ken Greinke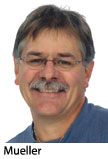 has been serving in the post on an interim basis.
Mueller's new duties include serving as a member of LCMS World Mission's international mission team; providing spiritual care and nurturing the Africa regional team; identifying, appointing, and supervising area facilitators in Africa; and maintaining relationships with mission societies and partner churches. Mueller will be based in Africa, beginning sometime next year.

Mueller, 50, has served 12 years as director of the Oswald Hoffmann School of Christian Outreach and professor of theology and mission at Concordia University, St. Paul. From 1983 to 1990, he served as a missionary in Liberia, West Africa.
He holds a 1977 degree in elementary education from Concordia University, St. Paul, and is a 1983 graduate of Concordia Seminary, St. Louis. He also holds a master of theology in missiology degree (1991) from Fuller Theological Seminary's School of World Mission, and a Ph.D. in missiology (1996) from Concordia Theological Seminary, Fort Wayne.
Posted June 30, 2005