Missouri Synod Navy Chaplain Ed Jack died of a heart attack Jan. 29 while serving aboard the U.S.S. Bonhomme Richard in the Western Pacific and Arabian Gulf. Jack, 51, a lieutenant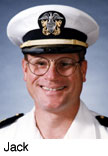 commander in the Navy, served as chaplain for the ship, which had provided humanitarian assistance to tsunami victims.
Memorial services for Jack were held Feb. 3 at Murphy Canyon Chapel in San Diego and Feb. 4 on the U.S.S. Bonhomme Richard, with burial in Seymour, Ind.

Jack received the bronze St. Martin of Tours award from the Synod's Ministry to the Armed Forces in January 2004, in recognition of 20 years of service as a chaplain in the armed forces, and numerous service awards, including the Navy Commendation and Achievement Medals, and the Navy Unit and Meritorious Unit Commendations.

In his daily ministry, Jack "exemplified an unwavering commitment to Scripture and the Lutheran Confessions," said U.S. Navy Commander Mark Steiner, group chaplain of Amphibious Group Three in San Diego. "His rigorous devotional life was reflected in the worship services he led, the instruction classes he taught, and in his faithful and continual pastoral care given to the men and women of the sea services."

Jack is survived by Jean, his wife of 31 years, and two children — Todd, 15, of San Diego, and Amanda, 25, of Irvine, Calif.

Memorials may be made to the LCMS Ministry to the Armed Forces and/or LCMS World Relief/Human Care, both at 1333 S. Kirkwood Road, St. Louis, MO 63122; Lutheran Social Services of Southern California, 3101 Fourth Ave., San Diego, CA 92103; and the Lutheran Heritage Foundation, 51474 Romeo Plank Road, Macomb, MI 48042.
Posted Feb. 25, 2005