Ann R.
Bryant of St. Louis began March 14 in the new position of vice president and actuary with the Synod's Worker Benefit Plans, primarily working with the retirement, disability, and survivor plans.

A 1990 graduate of the University of Wyoming, Bryant previously was an actuary in the St. Louis office of Towers Perrin, an international actuarial and benefits-consulting firm. Prior to that, she worked for six years with Aid Association for Lutherans, at its Appleton, Wis., headquarters.

Bryant is a member of Concordia Lutheran Church, Kirkwood, Mo.

Richard (Rich) Brumfield of Orange, Calif., is the new president of Ch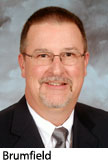 urch Development Partners (CDP), a Synod "Recognized Service Organization" based in Orange that provides land- and property-development counsel to LCMS churches, schools, and other ministries.

As CDP president, Brumfield succeeds James Beam, who retired April 1.

Brumfield previously was executive director of Strategic Ministry Planning, a service of the Lutheran Church Extension Fund (LCEF). Since 1980, he has served on LCEF's Architectural Advisory Committee and is currently its chairman.

A member of St. John's Lutheran Church, Orange, Brumfield practiced architecture for more than 27 years, specializing in Lutheran churches and schools.

Rev. Gregory M. Lorenz of Macomb, Mich., has begun serving as the first executive dire
ctor of the LATINO (Lutheran Action Team Improving Native Outreach) Mission Society. Lorenz, 42, served the first 10 years of his ministry as a church planter in Guatemala (1989-99); as an interim pastor at St. John Lutheran Church, Rochester, Mich., from 1999 to 2000; and as associate pastor of St. Peter Lutheran Church, Macomb, Mich., since 2000.

The LATINO Mission Society was founded in 2002 to encourage and assist LCMS congregations in reaching out with the Gospel to Hispanics/Latinos in their communities. Lorenz is available to speak to congregations, church groups, and other organizations about the work of LATINO. For information, contact him at latino.exec.dir@comcast.net. Or, visit the LATINO Web site at http://latinomission.org.
Posted March 31, 2005