Scholar and journalist Dr. Uwe Siemon-Netto joined the faculty of Concordia Seminary, St. Louis, in November as scholar in residence and director of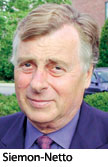 the new Concordia Seminary Institute on Lay Vocation. In the post, Siemon-Netto will offer seminars, lectures, and courses on lay vocation from a Lutheran theological perspective, and will write newspaper, magazine, and online articles, including regular contributions to The Lutheran Witness. He also will serve as director of the Concordia Center on Religion and Journalism at Concordia College, Bronxville, N.Y.

An international journalist since 1956, German-born Siemon-Netto has served as religion editor of United Press International in Washington, D.C., and as a research scholar at the Institute for Religion and World Affairs, Boston University. He holds a Ph.D. in theology and sociology of religion from Boston University.

David W. Fiedler of St. Louis began serving Nov. 7 as executive director of the General Services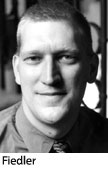 department at the LCMS International Center. Fiedler, 34, is former senior manager in the Synod's department of Human Resources and has worked for the LCMS since 1995.

In his new post, Fiedler will manage the Synod's two St. Louis office buildings, which includes supervision of the National Contract program — a discount program for LCMS workers nationwide — travel and meeting planning, food-service operation, mail center, and copy/print room. General Services also oversees the Synod's rosters/statistics and research areas, some editorial functions, LCMS Web sites, and the Church Information Center.

Fiedler earned undergraduate degrees in German and political science from Washington University in St. Louis, and holds an MBA degree from Lindenwood University in St. Charles, Mo. He was an officer in the U.S. Army Reserve from 1993 to 2001.
Posted Nov. 16, 2005