Ed and Ruby Kintzinger of Kimberling City, Mo., originally thought they might want to volunteer as builders with Habitat for Humanity after they retired from their
jobs in engineering and speech pathology.
Then they found out about the Synod's Laborers For Christ (LFC) program, which uses volunteer labor — mostly retirees — to construct churches, schools and other Lutheran structures at low cost.
The Laborers program "sounded interesting to both of us — working within the parameters of the church," explained Ruby. They realized God was calling them to become Laborers within days of filling out an application, she said. They mailed it on a Saturday, and the following Thursday Ed was on site at his first LFC project — an addition to St. Peter Lutheran Church in Prairietown, Ill.
"That says we're supposed to be here," said Ruby, who joined Ed on the project a little later. "This is what we're supposed to be doing."
Adds Ed: "God had a plan for us."
Now finishing up their third project, an expansion and remodeling job at Christ the King Lutheran Church and preschool in Newbury Park, Calif., the couple, both 66, say they enjoy serving as Laborers.
"It's a wonderful way to spend your retirement," said Ruby. "This is something you're working at every day and it doesn't become boring — every day, things happen."
Laborers in the program earn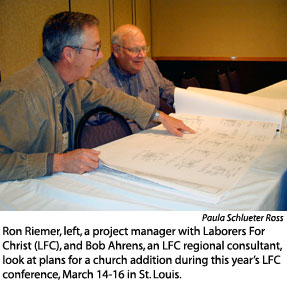 minimum-wage salaries as they work at construction sites in different parts of the country, and they become temporary members of whatever congregation they're serving.

They also witness their faith to non-Lutheran subcontractors at each site — many of whom join the Laborers in devotions. Ed recalled a local drywaller whose mother was seriously ill. The on-site prayers "got him to thinking, and he asked to see the pastor," he said.

The Synod's 25-year-old Laborers For Christ program today has a roster of 405 people — both men and women — who serve in a variety of positions.
A total of 22 LFC projects — down slightly from last year's 25 projects — are scheduled to begin in 2005, "but we have about the same amount of work," says Curt Connolly, director of the LFC program.

More Laborers are needed, according to Connolly, but they need to be "willing to help where projects are," rather than choosing projects only in states they want to visit.

For more information about Laborers For Christ, call (800) 843-5233 or send an e-mail to laborers@lcef.org. Information about the program also is available on the Web at www.lcef.org (click on "Services," then "Laborers For Christ").
Posted March 31, 2005