Assisting with agricultural support for returnees in Sudan and helping to establish urgently needed schools in India are among 24 international mission projects to receive support from $800,129 in grants from LCMS World Relief/Human Care.
The grants include 18 for new projects and six for continuing projects in 13 countries. That total includes four grants for projects in Brazil and three grants in each of the countries of Sudan and Guinea.
"Of all the terrific works of mercy and care that we at LCMS World Relief/Human Care have the privilege of s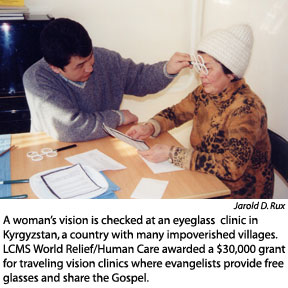 upporting, nothing is so close to our hearts as these grants for our missionaries and partner churches," said Rev. Matthew Harrison, executive director, LCMS World Relief/Human Care, who announced the grants in August. "We pray that by supporting these projects, thousands more will hear the Gospel of Christ."

Dr. Robert Roegner, executive director of LCMS World Mission, said the grants will help support work that otherwise might struggle for funding. "A lot of what we do couldn't be done without LCMS World Relief/Human Care being part and parcel of our work," Roegner said.
"We partner with many organizations, but one of our best partnerships and most biblical is with LCMS World Relief/Human Care," Roegner added. "There's no doubt that funding from World Relief/Human Care directly leads to proclamation of the Gospel and to helping people around the world know Jesus as their Lord and Savior."
LCMS President Gerald B. Kieschnick said "the mission of the Synod through LCMS World Mission of bringing the saving Gospel to the world is supported through the ministry of LCMS World Relief/Human Care in bringing hope and healing through acts of kindness and deeds of mercy, in the name of Christ our Lord."
Harrison noted that LCMS World Relief/Human Care is the St. Louis-based human care arm of The Lutheran Church–Missouri Synod. It is often confused with Lutheran World Relief, the inter-Lutheran agency based in Baltimore. To learn more, visit http://worldrelief.lcms.org.
For more information about LCMS World Relief/Human Care grant programs, contact Barb Hoffmann at (800) 248-1930, Ext. 1386, or barb.hoffmann@lcms.org.
The 24 International Grants for Partner Churches and Mission Fields include:
Preschool Construction, Sri Lanka, $47,500: Helps the Lanka Lutheran Church support education for children with minimal opportunities.
Health Services, Eritrea, $96,250: Assists the Evangelical (Lutheran) Church of Eritrea in improving health services previously closed or demolished.
Vasind Orphanage, India, $16,000: Helps establish urgently needed schools in areas lacking facilities.
Medical Clinic, Myanmar, $10,000: Supports a medical clinic on church grounds and provides low-cost care to people in a poor, under-served suburb.
Eyeglass Clinic, Kyrgyzstan, $30,000: Supports clinics in impoverished villages where evangelists help provide free glasses and share the Gospel.
Capacity Building of Diaconia Center, Latvia, $20,000: Provides for the reorganization and expansion of this center with a 10-year history of assisting the poor.
Medical Clinic and Classroom Construction, Guatemala, $2,949: Supports the Lutheran Church of Guatemala in providing outreach activities in two communities to help local congregations strengthen outreach.
Day Center for Children with Disabilities, Poland, $14,000: Assists the Evangelical Lutheran Church of the Augsburg Confession in Poland with improvements at this center for children with disabilities.
Lutheran Health Center, Bangladesh, $28,000: Supports desperately needed health services in a country with one of the highest infant mortality rates.
Art School for Afghan Refugee Children, Russia, $12,000: Assists refugee families with assimilating to life in Moscow.
Open Gate Christian Fellowship Day Care, Cambodia, $28,000: Assists the local congregation with offering quality, Christian daycare to families in Phnom Penh.
Agriculturalist Missionary, West Africa, $47,000: Assists churches in Sierra Leone and Liberia with the assistance of an agricultural missionary to help train church leaders in improved farming methods.
Lutheran University Student Center, Argentina, $60,000: Provides a gathering place for study and fellowship and safe, Christian residential facility.
Brazil
Good Samaritan Support House, $53,960: Helps Associacao Luterana de Assistencia Social provide lodging and services near urban hospitals for rural families while they receive medical treatment.
Project HOPE, $10,350: Supports the local church with plans to offer street children a safe gathering place.
Social Ministry for Miguel Pereira, $19,200: Assists the local congregation with building a small facility for outreach and human care activities.
Helping Construct a Better World, $10,256: Supports the Associacao Evangelica Luterana de Caridade with building a community facility for youth programs, including sports and other cultural activities.
Guinea
School Tarps and Benches, $3,585: Provides needed supplies for schools.
Kisi Literacy, $1,763: Assists with the use of Bibles as textbooks in literacy classes.
Toilets and Well Water, $20,455: Provides wells and toilet facilities in 40 communities where the Evangelical Lutheran Church in Guinea is active.
Lorm/Gbandi Literacy, $1,615: Assists with the use of Bibles as textbooks in literacy classes for Liberians in refugee camps.
Sudan