Chaplain Ted Wuerffel of Shoreline, Wash., has accepted a call from the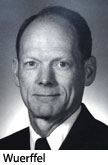 Synod's Board for Mission Services to serve as associate director of Ministry to the Armed Forces, beginning July 1.
Wuerffel, 61, currently serves as campus pastor for Agape Lutheran Campus Chapel at the University of Washington in Seattle. He also serves as chaplain for the U.S. Air Force's ROTC program at the university, and is adviser to the university's Habitat for Humanity chapter. He has served as a U.S. Air Force chaplain for 27 years, including 18 years on active duty.
Wuerffel is a 1972 graduate of Concordia Seminary, St. Louis, and holds a master's degree in drama from Catholic University, Washington, D.C.
Posted May 26, 2005