Dr. Ralph Mayan, president of Lutheran Church–Canada (LCC), last month presented LCMS President Gerald B. Kieschnick a check for $65,000 for hurricane-relief work through LCMS World Relief/Human Care.
The gift represent funds donated by congregation members of the Synod partner church in Can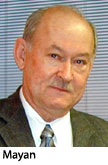 ada for relief work following last year's round of devastating hurricanes, particularly Hurricane Katrina.
Mayan presented the check to Kieschnick during a Jan. 9 visit to the Synod's International Center in St. Louis.
"When members of our congregations saw the need," Mayan said, they responded generously to help our brothers and sisters in Christ following the hurricane. And this was in addition to more than $125,000 collected for [tsunami] relief in Thailand … ."
Mayan said that some of the relief donations from LCC members were matched with grants from FaithLife Financial, a fraternal insurance society serving Lutherans and other Canadian Christians.
He indicated that in addition to the funds given nationally, LCC's Alberta-British Columbia District is partnering with the LCMS Northwest District to support hurricane-relief efforts for two Lutheran schools and four congregations in Alabama and Mississippi.
Posted Jan. 26, 2006