The family of Ronald Schulz, an American Lutheran who was taken hostage by an Iraqi insurgent group in November, now believes he was killed by his captors.
The Schulz family held a memorial service for him Jan. 14 at St. John Lutheran Chu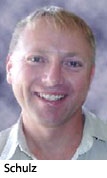 rch, a congregation of the Evangelical Lutheran Church in America in Jamestown, N.D. Schulz's mother and a sister are members of the congregation. Schulz lived in Eagle River, Alaska.
A videotape posted on a Web site in mid-December supposedly by the Islamic Army of Iraq showed a person being shot and killed. The victim's face was not shown, but Schulz's passport was posted on the site, suggesting it was Schulz who was killed.
Since then, members of the Schulz family had been holding out hope that Schulz was still alive, according to Rev. Douglas Opp, one of the pastors of St. John, Jamestown.
Opp told Reporter on Dec. 27 that Christmas was "a very difficult time" for the family, "knowing that potentially their son and brother may have been lost." Even though the family was hoping for the best, "they're grieving and they're struggling with the situation as a whole," Opp said. "It's been very difficult for them."
More than 200 people attended Schulz's memorial service. Even though the U.S. State Department has not yet confirmed Schulz's death, his family has come to believe that Schulz was the person in the video who was shot and they decided to proceed with the memorial service.
"My family, in our hearts, believes he is dead," Schulz's sister, Julie Schulz, told a local newspaper, the Jamestown Sun. "As a family, we need to gain some aspect of closure."
In a Jan. 24 telephone interview, Opp told Reporter that the situation is still "very difficult" for the Schulz family. "But they feel, at this moment, [the memorial] was the right thing to do."
Schulz, 40, was baptized and confirmed at St. John. A master electrician, he had previously worked on industrial projects in China, Vietnam, Thailand, the Philippines, and the United States. He spent 13 months in Iraq as a civilian contractor assisting in the rebuilding effort before he was taken hostage. During the time he served in Iraq, he met his fiancee, Susan Bushra, an interpreter for the U.S. military.
At the memorial service, family friend Paul Sandstrom urged mourners to set aside their anger about Schulz's death and focus on their memories of his life.
"Remember his humor or his love of life," Sandstrom said, as quoted in a Jan. 15 story in The (Fargo, N.D.) Forum newspaper. "Remember his compassion and determination."
In a statement read by Opp, Schulz's family thanked people worldwide for praying for them.
"Ron traveled much for his work, and his family's prayers — and comfort — had always been that Ron was in 'God's hands,'" Opp said.
"It's a sad day," family friend Dawn Headland told The Forum. "The community always tried to hold on to the hope he'd come back."
Schulz is survived by his mother, two sisters, and a brother.
Posted Jan. 25, 2006