Two faculty members at Concordia University, Irvine, Calif., have been appointed to oversee the school's academic programs.
Dr. Mary Scott of Irvine is new provost and executive vice president, and Dr. Peter Senkbeil of Orange, Calif., is associate provost.
"After a yearlong nationwide search, we found that the top candidates were already on campus — right in our backyard," said university President Jack Preus.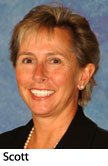 "Together, Mary and Peter will form a dynamic team, providing vision and leadership for our academic programs, which are growing significantly."
The position of provost was formerly held by Dr. Kurt Krueger, who has served as executive director of the LCMS Board for University Education and president of the Synod's Concordia University System for the past year.
Preus said the vacancy "provided an opportunity for the faculty to evaluate the position and for us to creatively staff it with two people who have different skills and backgrounds, but will complement each other and work synergistically to provide comprehensive support for the university's academic programs."
Scott has served the university for 21 years in various leadership roles, most recently as vice president for administration and university relations. She earned her doctorate in institutional management from Pepperdine University.
As Concordia's provost and executive vice president, Scott will provide strategic leadership,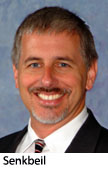 vision and planning for academic programs, as well as supervise the deans of the university's six schools. She also will represent the president to the campus and community in his absence and oversee human resources.
Senkbeil has served the university for 14 years as theatre professor, directing more than 20 plays and musicals. Most recently he was director of theatre activities and chair of fine arts. He earned his doctorate in threatre and drama from Northwestern University, Evanston, Ill.
While Senkbeil will continue directing plays and teaching on a part-time basis, his new responsibilities include handling more of the day-to-day, hands-on academic operations and collaborating with deans and faculty members in a variety of areas, such as educational effectiveness, assessment of student learning for accreditation, and faculty mentoring and developmen. He also will oversee the library.
Posted Oct. 13, 2006