Dr. Alfred L. Fremder, professor emeritus at Concordia Seminary, St. Louis, died April 19. He was 86.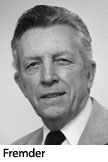 A funeral service was held April 25 at Tree of Life Lutheran Church in Garland, Texas.

Fremder served as professor emeritus at the seminary from 1991 to 2006. Prior to that, he was associate professor of practical theology from 1979 to 1991, and coordinator of musical and cultural activities from 1979 to 1990.

He graduated from Concordia Seminary, St. Louis, in 1942; received a master's degree from the University of Minnesota, Minneapolis, in 1955; and received a Ph.D. from North Texas State University, Denton, in 1970.

Fremder is survived by a son, David. His wife, Ernestine, and son, Steven, preceded him in death.

Memorials, designated for the choir, may be sent to Tree of Life Lutheran Church, 6318 Lyons Road, Garland, TX 75043.
Posted April 26, 2006