Dr. Gary Arp of Marion, Iowa, was re-elected to serve his third term as president of the LCMS Iowa East District at its convention June 23-24 in Cedar Rapids,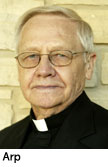 Iowa.
Delegates re-elected Arp, 71, on the first ballot.

Also returned to office were Dr. Matthew Rueger of Hubbard, Iowa, first vice president, and Rev. Brian Saunders, Muscatine, Iowa, second vice president.

The convention theme was "One Lord, One Faith, One Baptism."
Rev. Matthew Harrison, executive director of LCMS World Relief/Human Care and convention essayist, spoke about mercy and the church's role in taking care of its own people. As evidence of working together to extend mercy to others, he cited the Iowa East District's partnership with LCMS World Relief/Human Care in building a diaconal center in Palanga, Lithuania.

"What's next?" Harrision asked the convention audience.

Delegates adopted a resolution encouraging district congregations to use vocational materials they have received titled "Living the Life of the Baptized." Developed over the last three years, the materials focus on how one's Baptism and vocation relate to talking with others about Jesus Christ.

Another resolution adopted by delegates urges congregations to use Growing in Christ, the new Sunday school curriculum from Concordia Publishing House.
Congregations and members also were encouraged in a separate action to support with prayers and gifts People of the Book Lutheran Outreach (POBLO), an LCMS mission society that conducts outreach activity among Muslims and other ethnic groups in North America and has an office in Cedar Rapids.
Delegates authorized forming a task force of 13 members to study restructuring the district and to report its recommendations to the 2009 Iowa East District convention. Among other items, the task force will look at the possibility of making the district presidency a part-time position.
Other resolutions of encouragement adopted by the convention call for congregations to use the Synod's new Lutheran Service Book and its accompanying resources and to consider participation in the "Fan into Flame" fund-raising program to support the Synod's Ablaze! movement.
Posted June 27, 2006