Note: Reporter cannot accept notices about items offered for sale or that p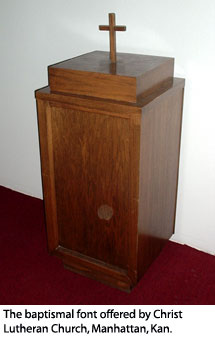 eople wish to purchase. Items described as "Wanted" or "Available" are sought or may be obtained for shipping costs only.
Available
Baptismal font (see photo). Contact Jim Kroenlein, 1613 Denholm Drive, Manhattan, KS 66503 or jimkay1@cox.net.
Paraments for altar (84 by 22.75 inches by 18.5 inches frontal drop), lectern (18 by 33.25 inches), pulpit (16 by 31 inches), and communion table (36 inches by 24 inches by 6 inch frontal drop). St. John Evangelical Lutheran Church, P.O. Box 162, Baldwin, IL 62217; (618) 785-2344; stjohnch@egyptian.net. Or call Beverly Schoenbeck at (618) 785-2563.
Posted July 28, 2006