Dr. J. Thomas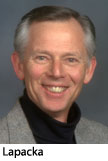 Lapacka, executive director of the Synod's Board for Communication Services (BCS) since 2001, left that post as of Dec. 31.
The BCS will begin the process of securing a new executive director in the near future.
In the meantime, David L. Strand, director of public affairs and interim director of News and Information for the BCS, has assumed the duties of interim executive director of the department.
Posted Jan. 26, 2006