By Paula Schlueter Ross
St. Louis-based Lutheran Hour Ministries (LHM) has joined the Ablaze! Gospel-sharing effort in a big way, adding more than 1.4 million "contacts" to the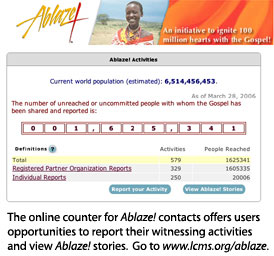 Web-based counter over the past four months, bringing the total number to 1,625,341 (as of March 29, when this Reporter went to press).
LHM has its own Web-based tracking system for Ablaze!, and began transferring its own numbers to the LCMS World Mission Ablaze! site last December. The first LHM figure of 1,377,474 — added to the Ablaze! counter Dec. 9 — represents witnessing contacts made from June 2004 through October 2005. The second figure of 45,342 — added to the site March 15 — is the number of contacts for November 2005 through January 2006.
Synod President Gerald Kieschnick said he is "very impressed by Lutheran Hour Ministries' hard work in helping us achieve the goals of the Ablaze! movement. God be praised for this incredible work."
Kieschnick described LHM's outreach efforts as a "model … for the rest of the church. We've got a long way to go working toward 2017, but [LHM's] work has already made a difference."
LHM's Ablaze! contacts data come from two sources:
Monthly reports of LHM's North American and International Ministries divisions, which tally the number of people who respond to LHM media and outreach programs worldwide. If LHM airs a radio ad offering a free Christ-centered booklet, for example, the 5,000 listeners are not counted as "contacts." But inquiries that come into an LHM volunteer phone bank in response to the ad — whether the caller is requesting the booklet, seeking spiritual answers, or requesting a referral to a local Lutheran church — are counted, according to spokeswoman Kathy Bernard, LHM's director of corporate communications and donor relations.
Data from LHM's Ablaze! Web site, which, like LCMS World Mission's Ablaze! site, allows individuals and groups to report the number of people "unreached by the Gospel and uncommitted to Christianity" who have responded to their one-on-one witnessing efforts.
To be valid — and counted — the witnessing effort must receive a response, even if that response is "sorry, not interested," according to LCMS Ablaze! organizers.
If The Lutheran Church–Missouri Synod and its partners are serious about reaching the Ablaze! goal of sharing the Gospel with 100 million people by 2017, it is essential to count in order to track the effort's progress, they say.
"We firmly subscribe to the theory that you cannot grow what you do not measure," says LHM's Bernard. "To encourage more people to reach out, we need to tell them what has already been achieved. We can't do that unless we track the number of people we have reached."
LHM is well-suited to take part in Ablaze! because it is a congregational outreach ministry with active ministry centers in more than 40 countries and more than 100,000 donors and volunteers worldwide, notes Bernard.
"We already have a network of broadcasters around the world and the Rev. Dr. Ken Klaus on 'The Lutheran Hour,' sharing Christ's hope with people through our radio and TV programs," she said. "And we already have many mobilized volunteers in North America and around the world who are witnessing to their friends and neighbors. So participating in the Ablaze! movement is just a natural extension of what we are already doing."
In fact, LHM has set its own Ablaze! goal: to share the Gospel with 25 million people by 2017, which just happens to be the 100th anniversary of the International Lutheran Laymen's League, LHM's parent organization.
Setting that goal, says Bernard, "provides us with a huge challenge that we must cling to Christ to achieve and which will make us radically ramp up our efforts to reach lost and hurting people."
Those "ramped-up" efforts include an Ablaze! Web site well-stocked with "tools" designed to help congregations and schools with their outreach efforts — including bulletin inserts, advertisements, and "witnessing cards" — and a plan to train 250,000 witnessing volunteers who will be encouraged to seek out the "unchurched." Bernard says thousands already have been trained for evangelism through LHM's "Equipping to Share" workshops in North America and "Equipping the Saints" workshops overseas.
One volunteer, Jean Schultz of Danville, Pa., related a conversation she had with her seatmate on a recent flight to St. Louis.
"When I asked where he was going, he told me he needed reconciliation with his 18-year-old daughter," Schultz said. "Eventually he admitted he hadn't been practicing his faith for years. I explained that though he felt he had left God, God hadn't left him and that the forgiveness that Jesus provided for him is the kind of forgiveness we need to share with those who offend us.
"Learning that he was turned off by some of the changes in the Episcopal church, I invited him to try one of the Lutheran churches in Wilkes-Barre, where he lives. I told him I would be praying for him and his daughter and have kept that promise."
Says Bernard: "What we are doing now through the Ablaze! movement is a continuation of all our volunteers have done throughout the decades. It continues to fulfill our mission of 'Bringing Christ to the nations — and the nations to the church.'"
For ideas and resources designed to help Lutherans share their faith with others, visit the LCMS Ablaze! Web site at www.lcms.org/ablaze and the Lutheran Hour Ministries Ablaze! Web site at www.lhm.org/ablaze.
For information about "Equipping to Share" evangelism workshops sponsored by LHM, including a list of more than 20 upcoming events, visit www.lhm.org/equipping/workshops.htm.
To read a related story, click here.
Posted March 29, 2006