In spite of the wet weather, the Lutheran Hour Ministries (LHM) float, "Miracle of Faith," took part in the Tournament of Roses Parade Jan. 2 in Pasadena,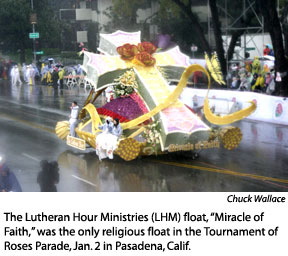 Calif. LHM has had a float in the parade for the past 55 years.
The LHM entry commemorated the 75th anniversary of "The Lutheran Hour" radio program. It was the only religious float in the parade.
This year's theme for the float was "Miracle of Faith." Dr. Walter A. Maier II, son of the first speaker of "The Lutheran Hour" radio program, was one of the riders on the float.
Each year, the float is hosted by the Southern California District of the International Lutheran Laymen's League and decorated by the Petal Pushers, a group of more than 5,000 volunteers from across the country who travel to Pasadena to participate. The Petal Pushers range in age from 13 to 85 and include individuals, church groups, families, and Girl Scout troops.
For more information about Lutheran Hour Ministries, visit its Web site or call (800) 876-9880.
Posted Jan. 30, 2006