"Hosanna!," a 25-by-52-inch print of Jesus' triumphant entry into Jerusalem painted by a professional artist a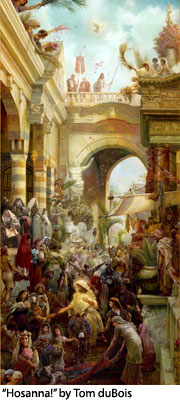 nd member of Memorial Lutheran Church, a Missouri Synod congregation in Houston, is among the items featured in the first annual online auction to benefit Lutheran health and human service organizations.
"Trading Graces" runs live Feb. 26-March 8 on eBay, sponsored by Lutheran Services in America (LSA). The national not-for-profit network represents more than 300 agencies of the LCMS and the Evangelical Lutheran Church in America.
The goal is to raise funds and awareness for LSA and agencies that served more than 6 million people last year, said Barbara Below, director of Social Ministry Organizations with LCMS World Relief/Human Care and LCMS liaison to LSA.
"An online auction is an opportunity to tap into technology and reach out to people who may be unfamiliar with LSA and our Lutheran organizations that express the mercy of the church through services to people in need," Below said.
A sampling of auction items donated by LCMS-related agencies include: a trip to Turkey, from the Association of Lutheran Older Adults; a 1 million-baseball-card collection, donated by Cedar Lake, Inc.; antiques contributed by Augsburg Lutheran Homes of Maryland; and the "Hosanna!" print by Tom duBois, who gave the piece to Rev. Matthew Harrison, executive director of LCMS World Relief/Human Care, to donate to the auction.
To make a donation or preview auction items, visit www.lutheranservices.org.
Posted Jan. 26, 2006