Dr. Kathryn Wolford, who has served as president of Baltimore-based Lutheran World Relief (LWR) since 1993, has accepted the presidency of The McKnig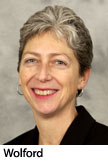 ht Foundation, a philanthropic organization based in Minneapolis. Wolford, 48, will step down as LWR president Oct. 31 and begin duties in her new post Dec. 1.
Wolford joined LWR as program director for Latin America in 1991, after serving in positions in the United States and the Caribbean and Latin America at Church World Service, a relief, development, and refugee-assistance ministry of 35 Protestant, Orthodox, and Anglican U.S. church bodies. She holds master's degrees in public policy and in religious studies and has received honorary doctorates in public service and humane letters. Her honors include being named one of "Maryland's Top 100 Women" three times by Baltimore's The Daily Record newspaper.
"I am filled with a profound sense of gratitude for the opportunity to have served as LWR's president," Wolford said. "It is very difficult to leave LWR, an organization that I love deeply and feel so passionately about. I am humbled by what God has accomplished through LWR over these years.

"What attracted me to The McKnight Foundation are many of the same qualities I will miss as I complete 13 years of service as LWR's president: clear and compelling values, a strong mission, a wonderful track record in innovation, and a commitment to positive social change through grant-making, building networks on issues, and strategic policy reform."
The McKnight Foundation, founded in 1953, makes grants in support of children and families, the arts, region and communities, and the environment, primarily in Minnesota, and supports select international and scientific research efforts.
An LWR transition committee is charged with leading a national search for a new president.
LWR is a ministry of The Lutheran Church–Missouri Synod, the Evangelical Lutheran Church in America, and individuals and parish groups in international relief, development, advocacy, and social responsibility.
Posted Aug. 14, 2006