Rev. Allen Maleske of Kitchener, Ontario, was re-elected to his third term as president of Lutheran Church–Canada's (LCC) East District at the district's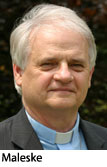 seventh regular convention, May 28-31 in Ancaster, Ontario.
In his acceptance speech, Maleske, 63, said the joys of the position "outweigh the hardships" and said he prays that "God will continue to encourage all of us to proclaim His faithfulness." Maleske was installed during the convention's closing worship service by LCC President Ralph Mayan.
Also elected were:
Rev. Paul Zabel of Clifford, Ontario, first vice president, and
Dr. Bryan King, Ottawa, Ontario, second vice president.
Under the theme "Proclaiming His Faithfulness; As We Believe … So We Speak," from 2 Cor. 4:13-15, delegates adopted their first resolution, to "strengthen doctrinal unity" in the district. During the convention, delegates used discussion guides to talk about doctrinal unity. Their responses will be forwarded to a "doctrine and unity committee" that will be charged with implementing the resolution.
Delegates also adopted resolutions to:
develop stewardship-education materials for congregations.
communicate the district's ministry priorities to youth and young adults. One way the district plans to do this is to post information — including details about district events of interest to young people — on its Web site.
oppose efforts to legalize euthanasia and assisted suicide in Canada.
establish a triennial "mission and ministry planning conference" to set priorities and discuss district ministries.
The convention included a mission festival with presentations, entertainment, and food highlighting a variety of ethnic and regional ministries.
Posted June 12, 2006