Rev. Russell Sommerfeld of Seward, Neb., was re-elected to his second three-year term as president of the Synod's Nebraska District at the distric
t's 15th convention, June 1-3 in Seward. Sommerfeld was elected by just over 70 percent of voting delegates on the first ballot.
Also re-elected to a second term was First Vice-President Rev. Clint Poppe of Lincoln, Neb.
Elected to their first terms were:
Rev. Tom Mroch, senior pastor of Holy Cross Lutheran Church, Kearney, Neb., second vice-president;
Dr. Orville Walz of Bennington, Neb., president emeritus of Concordia University Nebraska, third vice-president; and
Rev. Richard Snow, senior pastor of St. John Lutheran Church, Battle Creek, Neb., fourth vice-president.
Under the theme "N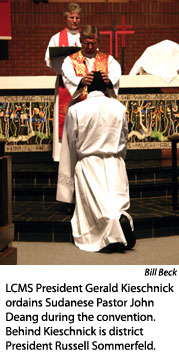 ebraska Fields … Nebraska Partners," based on John 4:35b, delegates spent considerable convention time in worship, Bible study, and prayer.
Special attention throughout the convention was given to the mission field of Sudan. The convention opened with a worship service that included the ordination of John Deang, a graduate of Concordia University Nebraska, Seward, and Concordia Theological Seminary, Fort Wayne. Deang, the district's first Sudanese pastor, will serve as a missionary-at-large to African immigrants in Nebraska.
The processional and pectoral crosses and pastors' stoles used in the opening worship service were handmade in Sudan. And the mission fields of Nebraska and Sudan were explored at a convention dinner, which also featured presentations about the district's campus, Hispanic, Native American, and Sandhill ministries.
During a business session, delegates voted to establish a mission partnership between the Nebraska District and the Evangelical Lutheran Church of Sudan through LCMS World Mission. That partnership would foster Gospel outreach to Africans in both Sudan and Nebraska.
Among other adopted resolutions, delegates voted to:
celebrate the district's 125th anniversary in 2007 with a special mission emphasis that will include a gathering of offerings during the next triennium to support mission work in Nebraska.
encourage district congregations to support LCMS day schools with prayer, encouragement, and financial support.
ask the Synod's Commission on Theology and Church Relations to study "secret society" and "Lodge" memberships and to offer guidelines for congregations.
ask the LCMS convention to study and make recommendations for reduced-cost health insurance coverage for seminary students and their families.
"clearly confess and publicly proclaim in word and deed … that there is no salvation apart from Jesus Christ," and ask the Synod's national convention to do the same.
reaffirm Gospel truths and ask God to "create a burning desire in our congregations and our Synod to proclaim the true Gospel of Christ."
Posted June 9, 2006