Minnesota North District President Donald J. Fondow was re-elected, by unanimous voice vote, to a second three-year term at the district's 19th convention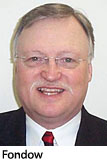 May 8-10 in Brainerd, Minn. Fondow, of Park Rapids, Minn., was installed by LCMS President Gerald B. Kieschnick during the convention.
Delegates also elected:
Rev. Dan C. Abrahams, Detroit Lakes, Minn., first vice president;
Rev. Kirk E. Lee, Parkers Prairie, Minn., second vice president; and
Rev. Paul E. Cloeter, Sauk Rapids, Minn., third vice president.
Under the theme "Living and Forgiving as God's Holy People: In Peace, In Mission, In the Word … Through Christ!," delegates voted to:
encourage each congregation to share at least one-tenth of its income with the district to fund district mission efforts and support national LCMS work.
ask circuits and congregations to identify potential mission starts, and set a goal to plant at least two congregations annually in the district.
ask each congregation to develop and implement an "intentional mission plan" for outreach.
encourage all members and congregations to support and take part in the Synod's Ablaze! outreach initiative.
establish a Rural Church Task Force to address the challenges of rural congregations.
ask the 2007 LCMS convention to rescind Res. 3-08A, which affirms the conclusions of the 1994 Commission on Theology and Church Relations report, "The Service of Women in Congregational and Synodical Offices."
require LCMS officials to "carry out their responsibilities of supervision and discipline in regard to the practice of closed or close Communion."
Posted June 1, 2006