Delegates to the 16th convention of the Missouri District, Feb. 9-11 in Lake Ozark, Mo., elected Rev. Ray Mirly of Olivette, Mo., to his first term as president.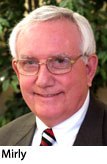 Mirly, the district's first vice president and senior pastor of Immanuel Lutheran Church, Olivette, was elected on the third ballot. He received 228 of the 389 votes cast. He will be installed into office March 23.
Mirly succeeds Dr. James Kalthoff, who is retiring after serving 15 years in the post. Delegates adopted a resolution thanking Kalthoff for his service and declaring him president emeritus.
Also elected to three-year terms were:
Rev. Terry Weinhold, St. Joseph, Mo., first vice president;
Rev. Andrew Spallek, Florissant, Mo., second vice president;
Dr. Ken Schurb, Moberly, Mo., third vice president; and
Rev. Gary Clayton, Cole Camp, Mo., fourth vice president.
Delegates adopted a number of mission-related resolutions, encouraging congregations to become active in mission, to participate in the Synodwide Ablaze! initiative, to work together to carry out the Great Commission, to work with their "circuit mission advocates," and to make special efforts to reach the "unchurched." Other resolutions call for equipping congregations to minister to "inactives" and increasing mission efforts in rural areas.
Adopted resolutions also ask congregations to develop "intentional outreach plans" for their schools, consider establishing or participating in Lutheran schools, and pursue or maintain accreditation for their schools.
The convention endorsed "Faith Aflame: Light in the Darkness," a three-year district funding initiative to establish a $2.5 million mission endowment for mission-training scholarships and church-planting grants, and encouraged all congregation members to participate.
Delegates also adopted a number of resolutions that will be forwarded as overtures to the Synod's national convention in 2007. They include requests to:
amend the bylaws on dispute resolution by removing the requirement of a face-to-face meeting "in situations where the sin is public," and ask the Commission on Structure to "review the composition of dispute resolution panels and the various hearing panels, as well as the entire matter of ecclesiastical supervision." The resolution notes that current panels do not include lay people.
direct the LCMS Commission on Theology and Church Relations (CTCR) to restudy its "Guidelines for Participation in Civic Events," clarifying issues raised regarding "serial" or "seriatim" prayer, and issue a new report by July 31, 2009.
rescind Res. 3-08A, adopted at the 2004 LCMS convention, that affirms the conclusions of the 1994 CTCR report, "The Service of Women in Congregational and Synodical Offices"; allow LCMS seminary faculties to offer input to the CTCR on women's service; and ask the CTCR to "critically review" its report on women's service.
develop a procedure for reviewing opinions of the Synod's Commission on Constitutional Matters (CCM) during LCMS conventions. Other resolutions adopted by Missouri delegates ask the Synod to overrule certain CCM opinions.
Other adopted resolutions encourage the use of "What a Way" materials to support the recruitment of professional church workers and continuing education for professional church workers.
Delegates failed to adopt a resolution to amend the district bylaws regarding the structure and functions of district boards and committees.
Those addressing the convention included Dr. J.A.O. Preus III, president of Concordia University, Irvine, Calif., who spoke about proclaiming the Gospel in a postmodern world; and Synod President Gerald B. Kieschnick, who spoke about his "One Mission, One Message, One People" vision, the need for faith-sharing in the world, the Ablaze! initiative, and the Synod's response to victims of natural disasters.
Posted Feb. 15, 2006