By Paula Schlueter Ross

Making the decision to ordain the first new bishop of Sweden's Mission Province was not taken lightly, recalled Dr. Walter Obare, presiding bishop of the Evangelical Lutheran Churc
h in Kenya (ELCK), during a visit to St. Louis last month. The LCMS entered into altar and pulpit fellowship with the ELCK in 2004.

The Mission Province was formed in 2003 by Swedish Lutherans who hold a confessional understanding of Scripture, and Obare responded to the group's request to consecrate Bishop Arne Olsson on Feb. 5, 2005, despite threats of reprisals from the Church of Sweden and the Geneva-based Lutheran World Federation (LWF) for "inappropriate interference."

The Church of Sweden had denied ordination to bishops in the Mission Province, an entity it does not recognize.

"We took time to think about it, we prayed about it, and took it to our committees," Obare said during a June 1 visit to the Synod's International Center. He actually expected his committee members to say "no," he said, "so I would be on the safe side."

"It became a big burden in my heart — to go or not to go," but in the end he and other Kenyan Lutherans decided that they could not ignore the pleas of this "conservative group of Lutherans in Sweden" who were fighting to retain their confessional beliefs in an environment they viewed as less and less Christian.

Christian faith is not a requirement to serve on the Church of Sweden's church council, according to a statement on its Web site, and the church body refuses to ordain anyone who opposes the ordination of women. It also has formally approved the blessing of homosexual unions.

All requests from the Mission Province to talk with leaders of the Church of Sweden have been denied, according to Dr. Bengt Birgersson, general secretary of the Mission Province, and the province is considered a separate church body by Swedish church officials, he said.

Birgersson met with LCMS officials in May to discuss the possibility of further conversations between the Mission Province and the LCMS. Dr. Samuel Nafzger, executive director of the Synod's Commission on Theology and Church Relations, told Reporter that LCMS leaders "have told Birgersson that they are willing to have further talks with representatives from the Mission Province of Sweden and that the Synod is supportive of the positions which the Mission Province has taken on such issues as opposition to the ordination of women and the blessing of same-sex unions."

For his part, Obare says, "Many, many people in the world have supported what I did, and many have said 'You did the wrong thing.'"
Supporters include officials at Concordia Theological Seminary, Fort Wayne, who presented Obare and Birgersson with honorary Doctor of Di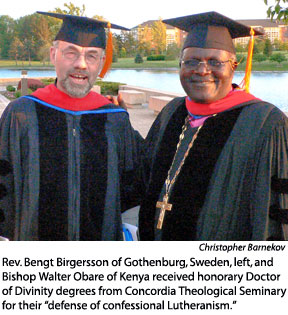 vinity degrees in May for their "defense of confessional Lutheranism against the increasing pressures of western liberalism and secularism."
"You have been a good shepherd who did a bishop's duty — namely, to ensure the ongoing preaching of the Gospel through bringing into the Church orthodox pastors and teachers," Dr. William C. Weinrich, academic dean of the seminary, told Obare during the service.
But Obare does not feel like a hero, he told Reporter. "God assisted me to stand and confess," he said. "This was not my own making — it was His making," he said.
He also thanked the Missouri Synod for its strong theological foundation, which has contributed to his own faith, he added. Obare received his master's degree from Concordia Seminary, St. Louis, in 1997.
Obare said he feels "humbled" that God would use someone like him "from such a poor part of the world."
The negative repercussions from his action, which include his dismissal as an adviser to the LWF Council, are "a small cross I am carrying for my Lord," he said. "I have a clear conscience."
The Evangelical Lutheran Church in Kenya was founded in 1948 by Scandanavian, mostly Swedish, missionaries. Today the church body has some 80,000 members.
Posted June 29, 2006