When Concordia Publishing House hosted a party Sept. 30 for its south St. Louis neighborhood, 297 children and 158 adults showed up for the free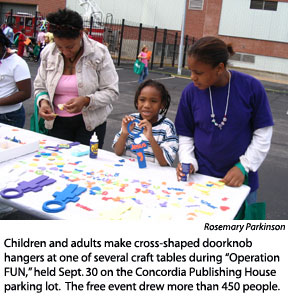 food, games, entertainment, and craft activities.
This year marked CPH's 11th annual neighborhood party, dubbed "Operation FUN" (For a United Neighborhood) and held on the CPH parking lot. The event is designed as a way for the Synod's publisher to "connect directly" with urban residents.
More than 100 volunteers and representatives of some 30 service organizations took part in Operation FUN, which included health screenings, science demonstrations, an exotic-animal petting zoo, clowns, a puppet show, performances by Lutheran choirs and dance troupes, and presentations by local firemen and police officers.
CPH employees operated food and game booths, helped children and their parents make Christ-centered crafts, and distributed Christian books and other materials. Rev. James Likens of JDL Video, St. Louis, played guitar and sang religious-themed songs as the fictional character "Grandpa Jim." Representatives of local LCMS congregations talked with visitors and shared information about their churches and schools.
The event was "really all about outreach," according to CPH President and CEO Bruce Kintz. Craft ideas were taken from CPH vacation Bible school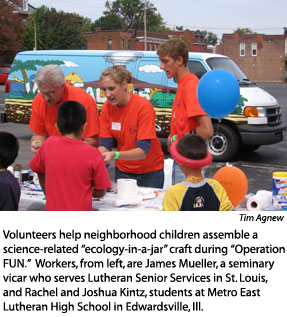 and Sunday school materials, and all the prizes distributed had Christian themes, such as CPH's Arch Books.
Kintz was born and attended elementary school in the CPH neighborhood, which has changed over the years. Once a middle-class community, the area now houses many low-income families.
Kintz said it was emotionally moving to watch the local children make different craft items at each station and stow them away in their VBS boxes, just like he used to do.
"I was proud of those crafts," he recalled, and he said he could see "it's important to them, too."
CPH is one of the oldest businesses in the city of St. Louis and has operated at its current site for more than 137 years.
Kintz said CPH and its employees want residents to "know that we're here and we want to be an active part of this neighborhood."
Posted Oct. 13, 2006