Rev. Larry Reinhardt retires Feb. 28, after nearly 10 years as director of Stewardship Ministry with the Synod's Board for District and Congregational Services (DCS).
Reinhardt, 65, and his wife, Diane, will move from the St. Louis area to Las Vegas, where they have bought a home near their daughter, Julie Walburn, and her family.
"I have agreed to do some part-time consulting work," Reinhardt told Reporter, adding that will include "part-time activity in this office" and participation on an ad hoc stewardship task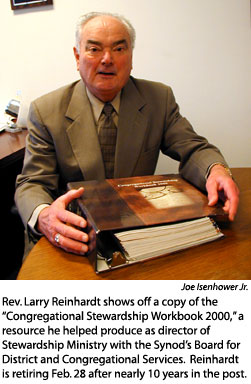 force in the Synod that is "looking for ways to recruit, train, and deploy stewardship advocates/catalysts to assist district stewardship leaders who ask for assistance."
Reinhardt has been in the stewardship-director post since May 1, 1996, after six years as executive assistant for the LCMS Iowa District West. Before that, he was pastor of a church in Snohomish, Wash., for 16 years.
A 1965 graduate of Concordia Teachers College (now Concordia University), River Forest, Ill., he first taught at schools in New York and Wisconsin, before completing the colloquy program for pastoral ministry in 1973.
"My whole life and career have been an interesting ride," Reinhardt told Reporter. "Through many changes, I see God's hand at work in things that I never would have envisioned."
Among "the most significant positive changes" Reinhardt says he's seen in stewardship over the years is "districts taking on more leadership and responsibility. I think it's great," he said, adding this has meant that at the national level, "we still do some resource development and networking. But the district stewardship executives and others at the grassroots level are telling us what they need to get the job done."
Those resources include the "Congregational Stewardship Workbook 2000"; the new Web-based leader's notes for pastors and others presenting the Synod's "Biblical Stewardship Principles" to their congregations and other groups; and the "simple fact that stewardship resources have become increasingly available through the Web," Reinhardt said.
The workbook, with 27 booklets on aspects of congregational stewardship, has been "widely and enthusiastically received," he said, with about 4,000 copies already in circulation.
"We've been told by district presidents and others that having the workbook is like having a full-time stewardship person on your staff," Reinhardt said. "It's filled with findings and observations of some of the best stewardship minds in the church."
He said the eight biblical stewardship principles adopted by the 1998 Synod convention "have been a real unifying force for stewardship education throughout the Synod." That convention's resolution encouraged "all members" of congregations and other groups in the LCMS to study and use the principles "as guidelines for all stewardship education and fund-raising activity."
"And I am confident that in just about any situation, all that anybody needs to do to find out what's available to help with stewardship is to simply go to our Web site," Reinhardt said. On that site are tips for preparing bulletin inserts, newsletter samples, guidelines for funding activities, and a catalog of resources.
Posted Jan. 26, 2006