Delegates to the LCMS SELC District's 14th regular convention, June 22-25 at St. John Lutheran Church, in Cudahy, Wis., re-elected Rev. Carl Krueger, o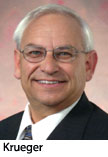 n the first ballot, to his fourth three-year term as district president.

Krueger is senior pastor of St. John Lutheran Church in Cudahy.

Also re-elected were Rev. Andrew Dzurovcik of Clark, N.J., first vice president, and Dr. Christopher Cahill, Lodi, Ohio, second vice president.
Krueger was installed at the main convention communion worship service by Dr. William Diekelman, first vice president of the Synod. Krueger then installed all the other elected officers and members of boards and committees.

"Servant Heart –- Ablaze!" was the convention theme, conveyed by using four separate Bible studies reflecting the Synod's theological conference of last summer. The studies answered how "servant hearts – ablaze!" have a positive effect on pastor-member relationships, in mutual accountability, in resolving conflicts, and in reaching out to the lost.

Delegates adopted a resolution that affirms the Synod's Ablaze! initiative and sets a district Ablaze! goal of 500,000 "critical events" in which members share their faith with those who have an opportunity to respond.
That action also encourages district congregations and schools to find a way for their members to report the number of critical events to their congregations and then to the district and Synod.

Delegates adopted the 2007-09 SELC District Work Plan, which continues the practice of the district sending more than 30 percent of contributions it receives on to support the work of the Synod at-large, with 10 percent of this amount sent directly to the two LCMS seminaries, as unrestricted support. The Workplan also supports three new Word and Sacrament ministry start-ups, several mutli-ethnic mission endeavors, and special support for the Center for Asian Mission and Evangelism and the Center for U.S. Missions.

Delegates also voted to:
receive the Synod's new Lutheran Service Book resources "with thanksgiving," encourage district congregations to participate in introductory workshops this fall for the resources, and urge congregations to use those resources for years to come; and
support the urban ministries of district congregations by directing the SELC mission board and outreach committee to help provide ministry resources. The action also provides for continued district support and participation in the Great Lakes Urban Ministry Partnership.
The convention offerings were divided between the SELC 100th Anniversary Mission Fund and LCMS hurricane relief.
Posted June 29, 2006