Registration is open for workshops to introduce the Synod's new hymnal, Lutheran Service Book (LSB), and Concordia Publishing House (CPH) is taking preorders for the new resource.
To register for a workshop at one of 280 sites in the United States and Canada this fall, either visit http://lsb.cph.org and select "workshops," or request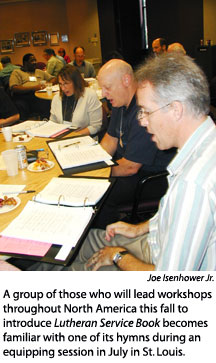 a hard-copy registration form from the LCMS Commission on Worship by calling (800) 248-1930, Ext. 1265.
"These workshops are designed to give participants insights into the wealth of resources that have been prepared in LSB and its companion volumes," said Dr. Paul Grime, the commission's executive director.
Grime said that the workshop session — about three hours in length — "will benefit anyone who is interested in attending, but especially pastors, church musicians and choir members, congregational officers, and teachers."
He also said that the 280 sites for the workshops "should make it possible to attend without having to drive very far. We also staggered the dates for them so that most folks will have several dates from which to choose."
To preorder the hymnal from CPH, go to http://lsb.cph.org or call (800) 325-3040.
"After nearly eight years in preparation, Lutheran Service Book is just days from its final publication," Grime said. He added that CPH reports that the first printing of 250,000 copies is scheduled to arrive at its warehouse by Aug. 15.
"I encourage congregations that have already decided to purchase the new hymnal to get their orders in so that CPH will be able to plan ahead and keep sufficient copies in stock," Grime said. "CPH is graciously making its introductory offer of $18.50 per hymnal good for an entire year, which will allow congregations plenty of time to examine carefully before making a decision about how many to order for their members to use."
Posted July 27, 2006