Delegates to the 34th convention of the LCMS Southeastern District re-elected President Dr. Jon Diefenthaler to his second three-year term.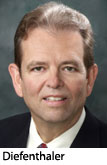 Diefenthaler was installed by Synod President Gerald B. Kieschnick during the convention, which was held May 5-7 in Norfolk, Va.
Also elected, by acclamation, were:
Dr. John R. Denninger of Springfield, Va., first vice president;
Rev. Mark A. Hricko, Silver Spring, Md., second vice president; and
Rev. Scott D. Johnson, Conover, N.C., third vice president.
Under the theme "Ablaze for God's Mission," the convention spent time in Bible study and prayer for district mission starts and workers. Leading those sessions was Rev. Barry Keurulainen, pastor of St. Luke Lutheran Church, Cabot, Pa. Keurulainen also is author of the 50 Days Ablaze! "mission outreach journey" designed to foster spiritual growth and commitment to Christ's Great Commission.
Among adopted resolutions, delegates voted to set district goals for Ablaze! to enlist at least 3,000 "mission prayer partners," identify and train 60 "outreach ministry teams," and raise $6 million in mission gifts and pledges by 2009; and encourage congregations to share their faith with 2.5 million people by 2017.
Delegates adopted a number of resolutions that address mission opportunities in the district's urban centers, and voted to establish a districtwide strategy for Hispanic ministry.
They also endorsed "Training Leaders for Outreach," the district's program for equipping congregations to share their faith in Jesus Christ.
A highlight at the convention was a visit from Rev. Don Little, pastor of Atonement Lutheran Church in Metairie, La., the district's "Katrina partner congregation." Little thanked the Southeastern District (SED) for its help to Louisiana hurricane victims. The district has provided more than $100,000 in funding, and thousands of additional dollars and many gifts have been sent by its congregations and schools to Atonement and to the 80 families "adopted" by SED congregations. Members of district congregations also have traveled to Louisiana to assist with hurricane cleanup.
Posted May 26, 2006