Three schools operated by LCMS congregations — one in Minnesota and two in Texas — are among 50 private "No Child Left Behind Blue Ribbon Schools" named by the U.S. Department of Education for this year.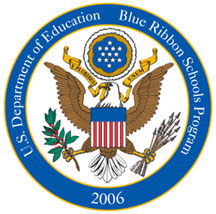 They are Trinity Lone Oak Lutheran School, Eagan Minn. — Sean Martens, principal; St. Paul Lutheran School, Fort Worth, Texas — Tom Geyer, principal; and Trinity Lutheran School, Spring, Texas — Jim Wilson, principal.

U.S. Secretary of Education Margaret Spelling announced the names of the Blue Ribbon Schools — 50 private and 200 public — to be honored by the federal department as part of President George W. Bush's "No Child Left Behind" program.

The private schools were recommended for Blue Ribbon status by the Council for American Private Education (CAPE). LCMS district and Congregational Services — School Ministry is a member of CAPE.

"It is an indication of quality for these three schools to receive this award," William Cochran, director of School Ministry," told Reporter. "It shows that these schools are committed to helping each student reach their potential."

Administrators nominate their schools for the No Child Left Behind Blue Ribbon Schools award by turning in detailed information on a number of topics, including their schools' mission, student-body makeup, and curriculum.

"Schools were selected either because they dramatically improved student performance on standardized tests in math and reading, or their test scores placed them in the top 10 percent of schools in the nation or state," according to a news bulletin from the Synod's School Ministry office.

When she announced the awards, Spelling said this year's Blue Ribbon Schools "are an example of what teachers and students can achieve. [They] show what wonderful accomplishments can be made when we focus on the bottom line in education — student achievement."

An awards program was held Nov. 9-10 in Washington, D.C., to honor this year's No Child Left Behind Blue Ribbon Schools.

The highest award given by the USDE, Blue Ribbon Schools have been named since 1982.

The three Missouri Synod Blue Ribbon Schools this year — all pre-K through 8th grade — are marking their awards with special observances, and each will display a plaque and flag brought back from the awards event in Washington.

At Trinity Lone Oak, Eagan, a "Blue Ribbon Celebration" was held last month, with special music and food to mark the occasion. A U.S. Department of Education representative presented a certificate to the school Oct. 30 and visited with teachers and students. Trinity Lone Oak was the only private Blue Ribbon School selected in the Minnesota this year.

The week of Nov. 13 was set aside for St. Paul's celebration in Fort Worth, including a panorama-photo shoot of school children in their "Blue Ribbon Schools" t-shirts, a faculty dinner hosted by parents, a chapel service of thanksgiving, and a proclamation from the Fort Worth City Council.

At Spring –- a suburb of Houston –- Trinity has received a proclamation from a local judge and made plans for a Blue Ribbon school assembly the week after the Washington awards event.

A Texas-based creamery with "blue" in its name is donating ice cream to both of the state's 2006 Blue Ribbon Lutheran schools.

For more information about the application process for No Child Left Behind Blue Ribbon Schools, go to the CAPE Web site at www.capenet.org/brs.html.
Posted Nov. 15, 2006