Thrivent Financial for Lutherans and Habitat for Humanity announced in late January that they are working together to build up to 312 homes this year — "a nationwide effort to create additional homeownership opportunities with low-incom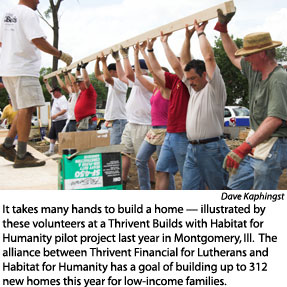 e families," according to a joint news release from the two organizations.
The effort is part of an alliance known as "Thrivent Builds with Habitat for Humanity" (Thrivent Builds) — making Thrivent "Habitat's largest single ally in its mission to eliminate substandard housing and rebuild communities," said David J. Rustad, senior media relations specialist with Thrivent.
Representing an estimated $21.7 million investment from Thrivent in 2006, plans for Thrivent Builds this year call for building homes in more than 200 communities in 43 states.
Throughout the four-year Thrivent Builds alliance, "Thrivent Financial intends to invest a total of $105 million to increase annual house production by up to 500 U.S. homes per year and more around the world," Rustad said. He added that beyond the United States, the program has "the goal of eventually providing up to 200 new homes overseas per year, by taking volunteers on building trips."
A total of 265 Habitat affiliates are receiving Thrivent Builds funding this year — "based on their ability to increase local building efforts," according Rustad. They have been matched with 388 Thrivent volunteer chapters, which are groups of local Thrivent members who are helping build the Habitat homes in both large urban areas and medium and small communities.
"Thrivent Builds with Habitat for Humanity is giving our nearly three million members and others a wonderful opportunity to not only raise roofs, but to raise hope as well with hundreds of families across the U.S.," said Bruce Nicholson, Thrivent Financial's chairman, president, and CEO. "Thrivent Financial has a mission of service. This allows our members to support Habitat with both our financial and volunteer resources."
Rustad called Thrivent Builds "a unique alliance between two national nonprofit networks of 1,699 Habitat affiliates and 1,364 Thrivent volunteer chapters. …The alliance combats the chronic national and worldwide problems of substandard housing."
In addition, Thrivent Builds plans to raise awareness about such problems through a mobile exhibit that will travel throughout the U.S. in a 48-foot-long semi-trailer truck. That exhibit will "give visitors a powerful experience designed to educate and call communities to action to support decent, affordable housing," according to Rustad.
For more information, including opportunities to volunteer or donate, click here.
Posted Feb. 23, 2006