Rev. Jeffery S. Schubert in early February accepted the call to be full-time executive director of the LCMS Board for District and Congregational Ser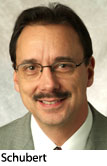 vices (DCS), after the eight-member Synod Board voted unanimously at its Jan. 21-22 meeting in St. Louis to extend that call to him.
His installation is set for March 9 at the Synod's International Center.
Since last summer, Schubert has served as the board's interim executive director. Schubert, 50, had been director of Family Ministry for DCS since he joined the staff at the Synod's International Center in St. Louis in 1998.
Prior to that, he was the director of Youth and Family Ministry for the LCMS South Wisconsin District (1989-98), after serving as pastor of congregations in Wisconsin and Nebraska.
Schubert is a 1981 graduate of Concordia Seminary, St. Louis.
Through five ministry areas, DCS "serves with districts in assisting congregations to develop and foster vibrant ministries to bring the saving, life-giving Gospel of Jesus Christ to the sinful, dying world," according to the DCS "purpose statement." Those areas are Children's, Family, School, Stewardship, and Youth ministries.
"I look forward to working with the bright, dedicated, and competent DCS staff," Schubert said, adding that will include "being intimately involved with the many successes that DCS has already demonstrated, such as the National Youth Gathering, the Lutheran School Portal, the expansive growth of early-childhood education centers, and many planned new initiatives."
"I am especially interested in seeing a renewal of the Sunday school in the LCMS," he added, "as well as branching out into new areas such as leadership education; the formation of strategic alliances and partnerships; and a much closer working relationship with our districts, churches, schools, and the Concordia University System and our seminaries."
Schubert said that in light of the director vacancies in Family Ministry and Stewardship Ministry — with the Feb. 28 retirement of Rev. Larry Reinhardt from the latter position — "future challenges will include a re-examination of how DCS is staffed [to be] the most responsive it can be to the expressed needs of our district offices and the over 6,000 congregations we, as partners, serve."
"Another ongoing mandate," he said, "will be to work closely with the DCS board as we revisit our strategic mission and ministry plan and how we can support the Ablaze! emphasis of our Synod."
Schubert and his wife, Judy, live in Ballwin, Mo., and are members of St. John Lutheran Church, Ellisville, Mo. They have two grown children, Christin and Joseph.
Posted Feb. 24, 2006