Dr. Manfred Zeuch of Brazil has accepted a call to serve as president of Concordia Lutheran S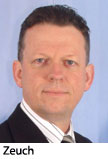 eminary in Edmonton, Alberta, Canada. He will begin work in the post as soon as immigration documents are processed, which could take several months.
Zeuch, 45, succeeds LCMS Chaplain Arthur (Andy) Bacon, who is serving with the U.S. Army Reserve in Heidelberg, Germany. Bacon left the Lutheran Church–Canada seminary post last year when he was called to active duty. He served five years as seminary president.
Zeuch currently serves as professor of systematic theology at Universidade Luterana do Brasil (ULBRA) in Canoas, Brazil. He also serves as a professor for ULBRA's Graduate School of Law.
A graduate of Concordia Seminary, Porto Alegre, Brazil, Zeuch earned his master's and doctorate degrees at Univeriste Marc Bloch in Strasbourg, France. He served as a parish pastor and circuit counselor with the Evangelical Lutheran Church of Brazil from 1984 to 1987, and as a pastor and president of the Alsace-Antwerp Region with the Evangelical Lutheran Church Synod of France and Belgium from 1987 to 1998. He is fluent in French, German, Portuguese, and English.
Posted July 27, 2006