By Joe Isenhower Jr.
The Synod's 63rd Regular Convention is set for July 14-19 in Houston's George R. Brown Convention C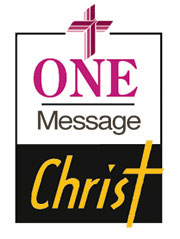 enter with the theme "One Message: Christ." That theme, part of the Synod's three-point vision statement of "One Mission, One Message, One People," has the sub-theme: "His Love is Here for You," based on 1 John 4:9-11. The convention logo is shown with this story.
The Synod convention is "the principle legislative assembly" of the 2.4-million-member church body, according to LCMS Bylaw 3.1.1, which states that its activities include "worship, nurture, inspiration, fellowship, and the communication of vital information." Elections and action on scores of resolutions are its main items of business.
The upcoming convention's opening Communion service is set for Saturday, July 14, with Synod President Gerald B. Kieschnick preaching. Worship on Sunday will follow the "Service of Prayer and Preaching" from the Synod's new Lutheran Service Book.
"Prayer is integral to this convention, as with all that we do," said Rev. Larry Krueger, assistant to Kieschnick and convention coordinator.
Krueger noted that materials for a "Day of Prayer, Repentance, and Spiritual Renewal" are available for download from the Synod Web site. That resource was produced before the Synod's 2004 convention, as a response to Kieschnick's call that "members of the LCMS … devote themselves to these spiritual disciplines on behalf of ourselves, our church, and the Synod in convention," according to an introductory paragraph on the Web.
To download the Day of Prayer material, go to the official convention Web site.
Krueger also told Reporter that numerous one-minute video segments about what congregations and others are doing in the Synod's Ablaze! movement will be shown throughout the convention sessions.
Convention floor committees will meet in St. Louis May 18-21, and on July 13-14 in Houston, with that last day offering open hearings.
Those floor committees will form the convention resolutions, based primarily on overtures submitted by LCMS congregations, districts, Synod boards and commissions, college or seminary faculties, and other groups of those who are ordained or commissioned members of the Synod.
Overtures and reports for the convention will be printed in the Convention Workbook, which is scheduled to be mailed in early May to all ordained and commissioned ministers on the Synod's roster, lay and alternate convention delegates, lay members of Synod boards and commissions, and to all teachers and lay ministers designated by district presidents.
Synod missionaries and partner church leaders also will hold reunions and meetings in conjunction with the convention.
Krueger said that although convention action may garner headlines in Houston and elsewhere, planners hope that an outreach training and door-to-door calling event July 13-14 "has a more lasting impact on the lives of people in and around the city."
Sponsored by Apple of His Eye Mission Society, Ongoing Ambassadors For Christ, and Lutheran Student Fellowship, the outreach event is open to "anyone in our Houston-area congregations and those in town for the convention," Krueger said.
Krueger suggested that those interested in details about the outreach event should periodically visit the convention pages on the Synod's Web pages, as given above.
The 2007 Synod convention is being held in Houston at the invitation of the LCMS Texas District, which marked its 100th anniversary last year.
Posted Dec. 28, 2006