By Joe Isenhower Jr.
The Synod's Board of Directors elected new officers and took its first official actions of the 2007-10 triennium during a Sept. 8-10 meeting in St. Louis.
The first order of business was election of the Board chairman –- Dr. Donald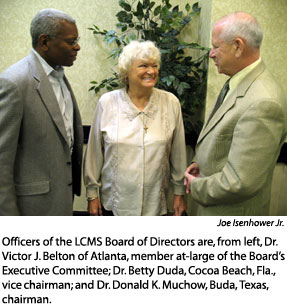 K. Muchow of Buda, Texas — on the first ballot.

"What you have here is a sinner saved by grace through faith in our Lord Jesus Christ, for Whom I would like to be an echo," Muchow told the Board immediately following his election. "I will do my best to serve Him as I serve this Board."

Also elected Board officers for the next three years were Dr. Betty Duda, Cocoa Beach, Fla., vice-chairman, and Dr. Victor J. Belton, Atlanta, member at-large to the Board's executive committee.
Muchow, who also was chairman of the Synod Board of Directors from 1998 to 2001, is a retired United States Navy chaplain who served as the 20th chief of Navy chaplains (1994-97).
Dr. Robert T. Kuhn of Oviedo, Fla., was the Board's chairman from 2001 to 2007.

Later in the September meeting, Muchow expressed "heartfelt thanks to Bob Kuhn and others who have sacrificed time, devoted effort, and served diligently as officers of this church and of this Board." He spoke of Kuhn's "outstanding sacrifice."

Of the seven Board members elected to six-year terms at the Synod's 2007 convention, Kuhn is the only one who served on the Board in the 2004-07 triennium. Others elected at this year's convention, besides Kuhn and Muchow, are Kurt M. Senske, a Synod-rostered teacher from Austin, Texas, and four laypersons –- Walter Brantz of Cody, Wyo.; Kermit A. Brashear, Omaha, Neb.; Gloria S. Edwards, Portula Valley, Calif.; and Curtis W. Pohl, St. Michael, Minn.
Named to chair the Board's three committees were Senske (Policy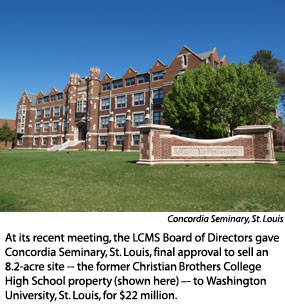 Review), Pohl (Audit), and Edwards (Personnel).

In action items, the Board gave Concordia Seminary, St. Louis, final approval to sell an 8.2-acre site — the former Christian Brothers College (CBC) High School property –- to Washington University, St. Louis, for $22 million.

The seminary's Board of Regents and the LCMS Board for University Education had already endorsed that sale.

Also, the action of the three boards authorizes the seminary to borrow up to $3 million to fund a shortfall in cash needed to sell the property and to retire bonds issued for it to acquire the property several years ago, along with retiring about $700,000 in unrelated debt to the Lutheran Church Extension Fund.

Seminary President Dale Meyer gave three reasons for selling the CBC property:
retaining it would harm the seminary's long-term economic prospects.
the space is not needed, since other vacant space on the 72-acre main seminary campus is available for renovation.
financial and other obligations the seminary faced with the CBC property are a "nuisance" to Concordia Seminary's mission.
In a separate action, the Board of Directors concurred with the Board for Mission Services that three Synod-owned properties once used for missionary housing in Venezuela be sold.

A memo from LCMS World Mission Executive Director Robert Roegner explained that the sale of those properties is "an attempt to safeguard LCMS assets in light of Venezuela's rapidly changing and aggressive political environment."

The total value of those properties is estimated at $346,000.

The Board heard an update on Fan Into Flame from Leonard V. Fiedler, LCMS World Mission's senior principal gifts officer. He reported that, as of Aug. 23, $23,382,144 had been pledged to the campaign, of which $8,518,156 had been received in cash.

After discussing Fiedler's report later in the meeting, the Board adopted a motion urging its members' "100 percent commitment and involvement" in Fan Into Flame.

Among other actions, the Board approved:
wording changes to update its policy manual.
delegation of certain of its responsibilities for gifts of property to the LCMS Foundation.
The Board of Directors filled appointments to three of the Synod's boards and commissions.

Appointed to the LCMS Commission on Structure were Rev. Carl J. Anton, West Hartford, Conn.; Rev. Alan J. Barber, Greencastle, Ind.; Bruce Dannemeyer, Lake Forest, Calif.; Dr. Walter Rosin, Shawano, Wis.; and Rev. Marvin L. Temme, Torrington, Wyo.
Those appointed to the Board of Trustees – Concordia Plans/Board of Directors – Concordia Plan Services were Carol Reineck of San Antonio; Philip Fluegge, Shelby Township, Mich.; and Tom McCain, Cohasset, Mass.

The Board also appointed the following five voting members of the LCMS Foundation: Rev. Larry Reinhardt, Las Vegas; Judy May, Fort Wayne; Fred Bernthal, Morristown, N.J.; Edward Dollase, Georgetown, Texas; and James Yagow, Appleton, Wis. Rev. Vernon D. Gundermann, Kirkwood, Mo., was chosen as an alternate.
Posted Sept. 25, 2007