"Connecting with your Community Through Childcare" is the focus of a conference to be held April 26-28 at Immanuel Lutheran Church in Glenview, Ill.
The conference is sponsored by the Loveland, Colo.-based Open Arms Institute
, a ministry that "fosters and guides Lutheran church planting and Gospel outreach with childcare ministry."
At present, 51 LCMS congregations nationwide operate Open Arms childcare facilities. More than 30 of those congregations were started as "new missions" in conjunction with the childcare centers, according to Martin Barlau, director of the Open Arms Institute.
At the conference, Immanuel Pastor Rev. David Barber and Open Arms Director Wendy Pritchard will share the story of their childcare ministry, which was started as a way of reaching out into their growing community.
Opened in January, Immanuel's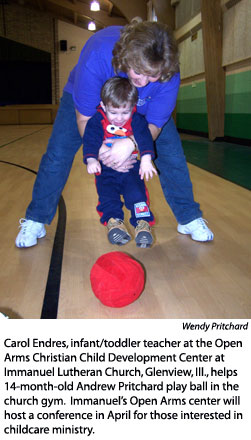 Open Arms Christian Child Development Center has enrolled 10 children — infants through pre-school age — and Pritchard expects to see that figure grow.
New construction has brought many young families to the area, she said, and this fall Open Arms will offer full-day kindergarten — something the local public schools don't. It wouldn't surprise her to see enrollment jump to 50 or 60 children by the end of the summer, she told Reporter.
Conference sessions will offer information on both "church planting with childcare" as well as adding childcare ministry as an outreach strategy for an existing congregation. The conference also will explore how the Open Arms concept can be used in an urban-ministry setting.
The event is open to pastors, lay leaders, childcare and school leaders, and district staff. People from the same ministries are encouraged to attend together as parish or district "teams."
Registration is $155 for Open Arms Institute members, or $195 for non-members — if mailed by April 5 — and includes most meals. Registration after that date is $200 for members, and $240 for non-members. The fourth registrant from the same ministry receives free registration. Scholarship funds also are available to help cover a portion of the expenses.
More information — including registration and scholarship forms — is available online at http://openarmsinstitute.com. Or, contact the institute at (970) 667-3249 or openarmsinstitute@msn.com.
The Open Arms Institute is an LCMS Recognized Service Organization.
Posted Feb. 16, 2007