Among members of LCMS congregations, one home and a car have been reported destroyed and several more homes damaged when tornadoes spawned by massive thunderstorms touched down in Central Florida early Feb. 2.
Those storms resulted in at least 20 deaths and nearly 900 homes destroyed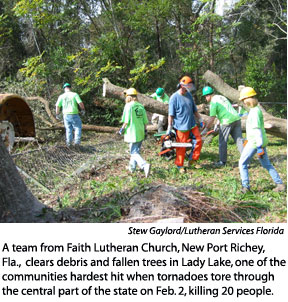 or heavily damaged. No LCMS members were reported among those killed or severely injured.
Most LCMS members directly affected by the Groundhog Day storms are members of Trinity Lutheran Church in Summerfield, Fla., about 10 miles south of Ocala. The church is just north of The Villages, a large mostly-retirement community hit hard by a tornado that morning.
Rev. Mark Abram, Trinity's pastor, said that four member families had damage to their homes, and that an elderly couple who are associate members lost their mobile home and car. He added that all five families have insurance to cover their losses.
Trinity has more than 500 members, and counts about 75 others who winter in Florida as "associate members."
Abram said the only physical injuries he knows of are bruises the elderly couple sustained after their mobile home was destroyed. He declined to give their names.
He said that although the couple were inside their mobile home when the storms struck, they did not realize the extent of damages until they were outside looking at the overturned trailer.
Three other people in the same mobile-home park lost their lives in the storm.
"We are so fortunate, very blessed that none of our members were badly hurt or killed," Abram said.
He said the couple who lost their car and mobile home lived with their daughter in Florida for several days after the storm, before returning to their home in Wisconsin.
He added that, ironically, the couple had planned to make this their last winter in Florida.
Abram said that the congregation's greatest need is for counseling, which he indicated would be conducted by Lutheran Counseling Services of Florida.
"Even people who had no damage will need counseling," said Abram, adding that would include "many who walked outside and were shell-shocked to see the destruction all around in their neighborhoods."
Bethany Lutheran Church, Leesburg, Fla., is the only other LCMS congregation to report damage to a member's property. However, Bethany's pastor, Dr. Gary Genzen, said that the damage to that one property had been repaired just days after the storm.
David Weidner, executive director of Congregational Services with the LCMS Florida-Georgia District, suggested three ways that LCMS members might help those affected by the Feb. 2 storms.
"1. Pray," Weidner wrote in an e-mail to district congregations and others. "Please keep the families who have been impacted by the storm in your congregational prayers, especially those families that lost loved ones.
"2. Volunteer to help with cleanup and other activities. The LCMS response is being coordinated by Mr. Stew Gaylord, Lutheran Services Florida Disaster Response coordinator. He can be reached at (863) 521-0073.
"3. Donate funds." Weidner suggested that donations be sent to LCMS World Relief/Human Care.
Rev. Glenn Merritt, director of Disaster Response with LCMS World Relief/Human Care, visited with Abram, Genzen, Weidner, and others in Florida after the storms. Hans Springer of the LCMS Foundation accompanied him.
"The Florida/Georgia District is on top of things and meeting the needs of their congregations," Merritt wrote in a report about their visit. "Lutheran Services Florida is on top of things with a limited response by Lutheran Disaster Response (volunteer coordination)," he added.
Although noting that neither LCMS World Relief/Human Care nor the district had received requests for help or grants "at this stage," Merritt wrote that he and Springer "encouraged the pastors to let the district or us know if future needs should arise."
"Certainly, funds will be needed as our congregations help in the communities affected by this disaster," Merritt said.
Donations may be sent to LCMS World Relief, P.O. Box 66861, St. Louis, MO 63166-9810. Write "Where needed most" in the memo line. Gifts also may be donated securely online at http://worldrelief.lcms.org or via telephone by calling (888) 930-4438.
Posted Feb. 19, 2007