By Paula Schlueter Ross
If you're going into space for months at a time, it's best to take your congregation along with you, says astronaut Jeff Williams, a member of Gloria Dei Lutheran Church in Houston.
Williams spent six months on the International Space Station and kept in touch with fellow congregation members the whole time via e-mail and, less often,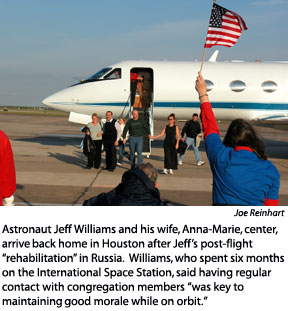 by cell phone and live audio/video.
"It was tremendously important for both my wife and me to have the support of the congregation … in prayer, encouragement, and tangible help in even the small things around the house," Williams told Reporter. "Additionally, having the regular contact with members via e-mail or otherwise was key to maintaining good morale while on orbit."
Williams said the mission "could not have gone any better" and included many highlights, including space walks, Shuttle visits — which brought fellow Gloria Dei member astronaut Mike Fossum up for a visit, the arrival of a third crew member in July, the astronauts' continued assembly of the space station, the arrival of the Expedition 14 crew in September, and the Soyuz rocket launch and landing in Kazakhstan.
Williams launched March 29, 2006, and returned to earth Sept. 28. He and Expedition 13 crewmate Pavel Vinogradov, a Russian, welcomed 19 others during their orbit, including Gloria Dei's Fossum, "space tourist" Anousheh Ansari, and Lisa Marie Nowak — the astronaut who made national headlines when she allegedly tried to kidnap a so-called romantic rival Feb. 6 in Orlando.
Nowak, who visited the space station in July, "did very well on that mission," according to Williams. Her recent bizarre behavior "was a surprise to everybody and still has us perplexed," he said.
Although space travel has "its unique stresses," Williams said, he believes the incident "has little to do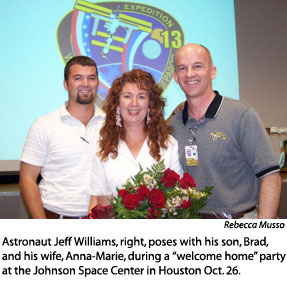 with the profession, directly, in that tragic responses can come from stresses in all walks of life.
"The potential, although usually restrained, is present in every human heart," he said. "But by the grace of God we go.
"What is most sad is, because of Lisa's job title, she and her family have been the center of a feeding frenzy in the media and subject to a public 'stoning.'
"We can only sympathize, support everybody involved, and let the justice system take its course."
Williams said it was "a special treat" to have Fossum on board, "with our common ties back to Gloria Dei."
Ansari, the space tourist, "did terrific and was very impressive in her abilities to live and work in space."
And Vinogradov "was just outstanding," Williams said. "It was a real joy to fly with him."
While in space, the astronauts "shared some very interesting conversations" about Christianity, he told Connect Quarterly magazine, a publication of Gloria Dei Lutheran Church. "And, by the way, if you think it's difficult to share your faith with someone here, try discussing theology in Russian."
Nevertheless, the relationship among the crew "was as ideal as you can get," Williams told Reporter. "We all worked very well together and enjoyed the time in preparation and in space."
But, alas, there's no place like home, and "as soon as we were on the ground there was a distinct overwhelming feeling of 'we're home,'" Williams said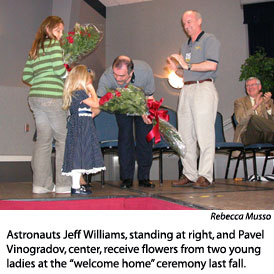 , "even though we were in the middle of nowhere half-way around the planet. Being back on the planet was home."
He and his wife were reunited within a few hours, and the couple spent three weeks in Russia, taking part in debriefings and undergoing Jeff's readjustment from weightlessness to gravity.
"It's very difficult to stand up without support when you first come back — if you close your eyes, you'll immediately fall down," he told Connect Quarterly. Because he couldn't stand on his own for several days, he took showers on his knees, he said.
When the couple returned to Houston in mid-October, a group of about 100 Gloria Dei members stood cheering on the tarmac as they deplaned. Days later Williams, Fossum, and Vinogradov were the guests of honor at a "welcome ceremony" at Houston's Johnson Space Center attended by family, friends, Gloria Dei members, and NASA and Russian space-agency officials.
Gloria Dei Senior Pastor John Kieschnick calls Williams an "outstanding Christian role model. His life is marked by love for God and others."
Williams, a communion assistant at the congregation's 9:30 a.m. Sunday worship service, "manifests the disciplines of the Christian faith — witness, worship, prayer, Bible study, fellowship, serving, and giving," Kieschnick said.
While it's unusual for a single congregation to have two members in space simultaneously, as Williams and Fossum were, they "truly encouraged one another in the faith in the process," according to their pastor.
"I would characterize both men as ordinary men with extraordinary faith," he said.
Reflecting on his six-month odyssey, Williams told Connect Quarterly that he doesn't know if or when he will be asked to go back into space, but says he and his wife trust God "and will continue to faithfully walk through doors He opens for us.
"Our prayer is that our Lord will be glorified through the life experiences that Anna-Marie and I share — and that, in some way, our lives will point folks toward Him."
Posted Feb. 26, 2007