As a mission executive for the Mid-South District, Rev. Greg Bearss oversees LCMS church-planting efforts throughout the state of Arkansas.
The former banker and graduate of Concordia Theological Seminary, Fort Wayne, also serves as pastor of LakePointe Lutheran Church in Hot Springs, a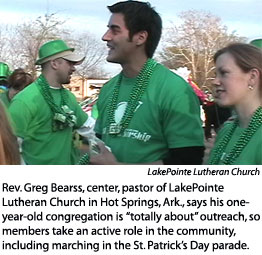 one-year-old congregation that's looking to give birth to its own "daughter" congregation within the next year or so.
And, Bearss says he'll expect that newly planted congregation to be — like LakePointe — outward-focused, with an eye toward starting its own "daughter" church.
"Our 'mother church' is First Lutheran Church here in Hot Springs, and what we've told them is, 'Your baby wants to have babies,'" Bearss says with a grin. LakePointe's five-year plan is to "get out there and [start] at least three or four congregations," he said.
Even though it doesn't yet have a church building — its 200 members worship in a middle-school cafeteria — LakePointe is an Ablaze! "Covenant Congregation" that pledges to "plant" at least four congregations by 2017, according to Bearss.
Meeting that pledge shouldn't be a problem, he says, since the growing, innovative congregation is "totally about" outreach.
"LakePointe is designed to reach out to the lost — those who aren't going to church at all, or those who have been burned or beat up by church in the past," he told Reporter.
"We've got 90,000 people in our county, and [we] figure 60 percent of them don't attend church regularly. That's amazing. A third of them would attend church if somebody would just invite them."
So, LakePointe is trying to do just that — through advertising and by taking an active role in the community. The congregation broadcasts its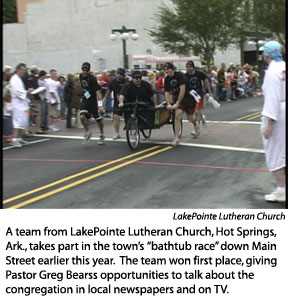 weekly worship service on a local cable-TV channel, inviting townspeople to "test drive LakePointe from home." A LakePointe delegation marches in the town's Christmas and St. Patrick's Day parades, handing out Starbucks coffee, DVDs, or Mardi Gras beads along with cards printed with worship and contact information.
A LakePointe crew — including "Pastor Greg" — even manned an entry in the community's "bathtub race" down Main Street, along with a dozen or more local businesses, and won first place, giving Bearss opportunities in the local newspaper and on TV to tell residents that "being a Christ-follower is fun."
The congregation also provides clothing and other items for families in need, baskets of "goodies" for new mothers at a local hospital, and rallies around those who need help — to let residents know "we're serious about our faith and helping others," Bearss says.
Not everyone who receives help joins the congregation, "but they're touched by it," he said.
"It's an opportunity for us to be out in the community … we're letting them know that we care about them, and inviting them to come experience God."
Even though the congregation has set outreach goals, "more important than the numbers are the life changes that we're experiencing — seeing people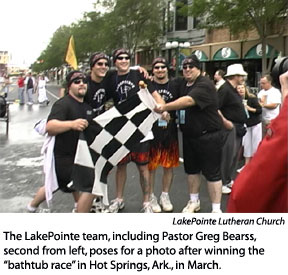 who weren't Christ-followers becoming Christ-followers," Bearss said.
An Easter party LakePointe threw for the community, for example, drew 300 people, including a man covered with tattoos and piercings who was drawn to the music of the congregation's contemporary-worship band. The man was invited to attend worship services the next day "as you are," and showed up with his wife and children.
"He's now one of our regular members, and we have an opportunity to baptize his children," said Bearss.
Later, the man told the pastor that "'that Sunday was my last chance at going to church. I was going to give it one more chance, and if anybody said anything about my tattoos, then I was never going to church again.' In fact, somebody did say something about his tattoos," Bearss said, "but they said they liked them."
The congregation has grown "through our new people being excited and inviting their friends, and their friends inviting friends. … We're amazed at what God is doing, we really are."
Successful outreach, Bearss says, "is becoming relevant to the people without losing our message, without losing our Lutheran doctrine."
LakePointe offers a number of Bible-study opportunities for children and adults throughout the week, as well as mountain-biking and scrapbooking groups. Worshipers can show up in blue jeans or suits — whatever they feel comfortable wearing.
"Our doctrine is completely Lutheran, but our style is geared toward reaching people who won't come to church," Bearss said. "We meet in a middle school and our focus is reaching out to those who are lost, hurting, and searching — those who have either been hurt in the past by a church or have never heard the Gospel message of our Savior's love."
For more information about LakePointe, visit its Web site at www.lakepointefamily.com.
Posted June 28, 2007