While a TV game show may be asking adults if they are smarter than a 5th grader, LCMS District and Congregational Service (DCS) –- Children'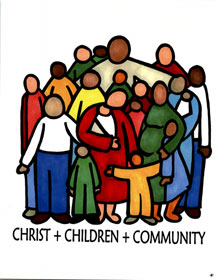 s Ministry is encouraging all professionals and lay volunteers in ministry to kids through that grade to mark their calendars for a first-time national children's ministry conference it is sponsoring July 11-13, 2008 in Schaumburg, Ill.

"Christ+Children+Community" is the conference theme.

"This conference … is designed to engage the imagination, freshen enthusiasm for service, provide practical advice, and hone ministry skills that people can use back home," said Dr. Jeffrey Burkart, conference chair and associate dean for the College of Vocation and Ministry at Concordia University, St. Paul, Minn.

Dr. Judith Christian, director of DCS — Children's Ministry, added that the conference "seeks to foster collaboration and fellowship, and most importantly, strengthen each participant's personal faith in God, so they might boldly proclaim the good news of salvation to children and their families."

Christian told Reporter that although there have been numerous Synodwide conferences in the past for those involved in specific or overall areas of ministry including children, the upcoming event is the first national conference "specifically for everyone in children's ministry."

With all sessions set for St. Peter Lutheran Church, Schaumburg, Burkhart said the conference will feature "a host of nationally recognized speakers, dozens of sectionals … on a wide range of topics vital to effective children's ministry, opportunity to personally meet with experts in children's ministry from all over the United States, and information from numerous vendors, including Concordia Publishing House."

Among scheduled speakers and presenters are:
Synod First Vice President William Diekelman, who will open the conference with an inspirational message.
Keynoters Dr. James I. Lamb, executive director of Lutherans For Life, Nevada, Iowa; Rev. Roger Theimer, children's pastor at King of Kings Lutheran Church, Omaha, Neb.; and Christian.
Rev. Steve Wiggins, pastor of Christ Lutheran Church, East Point, Ga., preacher for the Sunday festival worship service.
Rev. Robert Riggert, education executive for the LCMS Iowa District West, conference chaplain/Bible-study leader.
A conference "Festival of Music and the Arts" is planned for the evening of July 12, directed by David Christian, cantor of St. John Lutheran Church, LaGrange, Ill. — to include children's art, liturgical dance, choral and instrumental music, congregational singing, and drama.

Preliminary conference information, including registration fees and deadlines, is planned for posting on the LCMS Children's Ministry Web site, www.lcms.org/children, by Sept. 1. Each LCMS congregation will receive by mail in January a packet with complete conference information and registration forms, marked to the attention of its "Children's ministry leader." A similarly addressed "save the dates" postcard is planned for mailing in September.
Posted June 29, 2007