Concordia University, Austin, Texas, will change its name to Concordia University Texas, effective July 2.
The name change — which includes a new logo and school seal — coincides with the university's plans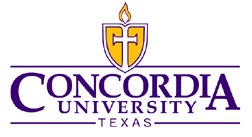 to move to a larger site in northwest Austin in 2008.
The new campus includes hundreds of acres of woods and six buildings that will be renovated to house classrooms, a library, and a cafeteria. New dormitories and an athletic complex will be built. Construction at the site is expected to begin this summer.
"Our university is on a bold journey and we feel blessed to have this opportunity for growth so that we can support the state of Texas' 'Closing the Gaps' program and bring higher education o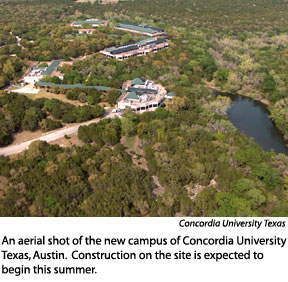 pportunities to a larger audience," said Concordia University President Dr. Tom Cedel.
"Closing the Gaps by 2015" is a plan adopted by the Texas Higher Education Coordinating Board to close educational gaps within Texas, as well as between Texas and other states, in student participation, student success, excellence, and research.
The school — part of the Synod's Concordia University System of 10 colleges and universities nationwide — also has satellite campuses in Fort Worth, Houston, and San Antonio. Its spring 2007 enrollment of 1,370 students is the largest in its 81-year history.
For more information about Concordia University Texas, visit its Web site at www.concordia.edu or contact its Admissions office at (800) 865-4282 or admissions@concordia.edu.
Posted June 28, 2007