A selection of Concordia Publishing House's rhyming Arch Books for children is now available on compact disk.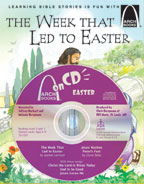 Each new Arch Books on CD features audio recordings of two Arch Books plus three children's songs.
Now available are:
Easter Arch Books on CD (item no. 59-2201YBG), featuring The Week that Led to Easter and Jesus Washes Peter's Feet, and the songs "Christ the Lord is Risen Today," "Jesus Loves Me," and "God is So Good."
New Testament Arch Books on CD (item no. 59-2200YBG), which includes Twelve Who Followed Jesus and Jesus Blesses the Children, and the songs "I Am Trusting You, Lord Jesus," "Praise Him, Praise Him," and "Two Little Eyes."
Each Arch Books on CD is $7.99, plus shipping.
For more information or to order, call CPH at (800) 325-3040 or visit www.cph.org on the Web.
Posted March 26, 2007