By Paula Schlueter Ross
LCMS missionaries returned to Guinea, West Africa, a lot sooner than they expected and say they are relieved to be back in their African "homes" to continue the work they were called to do.
Six missionaries and three missionary children escaped the country in mid-February amid political demonstrations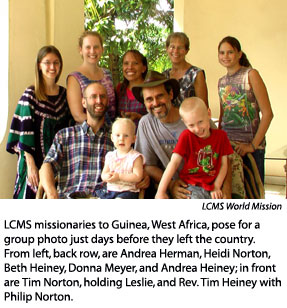 and violence. All were back in Guinea less than four weeks later.
Rev. Tim and Beth Heiney had planned to relocate to another West African country until things settled down in Guinea. But those plans were scrapped when they realized they would be able to return.
"During the first week of our evacuation, we figured it would be months before we could return, and were already considering permanent housing outside of Guinea," Beth Heiney told Reporter in a March 20 e-mail. "By week two, things had gotten better enough that we thought we could locate near our area … and just make trips in to continue the work. By week three, we had abandoned all those plans and were buying tickets to return to Guinea."
Heiney credits the "scads of e-mails that our prayer supporters were sending out to other supporters all over the world" which resulted in thousands of prayers, she said, adding, "God answered prayers quickly!"
Heiney said her family, which includes teenage daughter Andrea, was "very anxious" to get back to Guinea and "not nervous at all" about returning, once they heard reports that "things were very much back to normal."
Missionary Tim Norton, who made a weekend assessment trip to Guinea in early March, said "there is a great feeling of relief among the people there, that the worst of this all is now behind them."
Even though some of the ministries will have to be restarted, "we are very thankful that we do indeed have the opportunity to go back and continue with the work," he said.
Norton, his wife, Heidi, and children Philip and Leslie returned to Guinea March 9, along with missionary Andrea Herman. Donna Meyer, who returned to her home in Hastings, Neb., after the evacuation, plans to return to Guinea March 27 to finish her missionary term, which ends in May.
From Conakry, where the Heineys are stationed, "the mood is extremely high and people are very, very hopeful," said Beth. "We noticed when we returned that it almost seemed as if none of it had ever even happened. Streets were cleaned up, people back to work, life as normal."
Still, she adds, "there is the realization that, should the new prime minister not be allowed to do what he was chosen to do, the people will again revolt, and most think it will be worse than before. Of course, we hope and pray it does not come to that."
The country's president appointed a new prime minister Feb. 26, "and his choice seems to please all the involved parties," according to Norton. The president's appointment of the previous prime minister angered many Guineans and led to the demonstrations.
Travis Torblaa, personnel care manager for LCMS World Mission, said he and other staff will "continue to monitor the political stability within Guinea" and he encouraged congregations to continue praying for peace in that country.
"We praise God that our missionaries were able to return," Torblaa told Reporter, "and pray that He will use them to share the Good News of Jesus Christ with the Guinean people."
Posted March 22, 2007