District disaster-response coordinators will meet for first-time training Jan. 9-10 in St. Louis — a key step toward a comprehensive, collaborative concept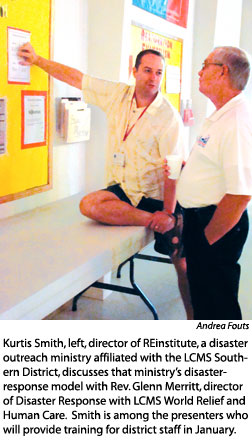 to help LCMS congregations help communities when lives are turned upside down.
"This concept enables local congregations to effectively and efficiently bring mercy to their communities when tragedy strikes," said Rev. Glenn Merritt, director of Disaster Response with LCMS World Relief and Human Care. "The disaster-response concept enables us to turn chaos into compassion."
The Synod's mercy arm is hosting the training after months of working with LCMS partners to develop the congregation-based disaster-response initiative.
District disaster-response coordinators expected to participate in the training include pastors, chaplains, deaconesses, emergency-response personnel, and representatives from Lutheran Disaster Response (LDR) affiliates. They are mainly volunteers appointed by district presidents or district boards of directors. Some are new to their posts; others are veteran disaster responders.
"This event brings together a wide variety of experience and expertise," Merritt said. "While many districts already had disaster-response coordinators, what was lacking was a system to make a collaborative effort that coordinated our LCMS capacity."
District disaster-response coordinators — working with their districts in cooperation with LCMS World Relief and Human Care and motivated by the Gospel — will seek and serve people in need when tragedy strikes. To maximize relief and recovery efforts, plans also are in the works for each coordinator to have a district disaster-response team — ideally four to six volunteers appointed by the district presidents or boards of directors. Team training also is planned.
A variety of Lutheran partners with disaster-response skills and experience have worked with LCMS World Relief and Human Care on this initiative. Several of these partners are among the training presenters. Confirmed presenters and the initiative's six areas of congregation-based disaster response are:
Spiritual and personal care: Rev. John Fale, associate executive director, and Rev. Carlos Hernandez, director of Districts and Congregations, both with LCMS World Relief and Human Care.
Critical incident response: Rev. Tom Acton, team leader, Critical Incident Support Group; and Rev. Ralph Buchhorn, president, Extra Mile Ministries.
Volunteer response: Joan Buchhop, Lutheran Social Services of North Dakota, an LDR affiliate specializing in disaster response.
Congregational preparedness and partnerships: Tim Hetzner, president, Lutheran Church Charities; Dan Baker, vice president/director, Laborers For Christ; and Kurtis Smith, director, REinstitute, affiliated with the Southern District.
Capacity building and logistics: Rev. Ray Wilke, president, Orphan Grain Train, and Rev. Glenn Merritt.
Financial accountability and staffing: Barbara Hoffmann, grants administration manager, LCMS World Relief and Human Care; and Hans Springer, vice president, LCMS Foundation, for LCMS World Relief and Human Care support.

The Synod's mercy arm first announced plans to develop the disaster-response initiative soon after Hurricane Katrina — "a watershed event," Merritt said, "that heightened our awareness of the need to respond to disasters and of our ability."

The initiative meets guidelines in the Handbook of the LCMS that asks the Board for Human Care Ministries to assist congregations and, through those congregations, their members and others in disaster situations through LDR and through the LCMS World Relief and Human Care domestic grant program.

For more information on the district disaster-response coordinator training event or initiative, contact LCMS World Relief and Human Care's Andrea Fouts at (800) 248-1930, Ext. 1635, or andrea.fouts@lcms.org.

Posted Dec. 12, 2007