Dr. David Ebeling, executive counselor for Congregational Services with the LCMS Indiana District, is the 2007 recipient of the Lutheran Education Association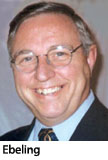 's (LEA) Christus Magister (Christ the Master Teacher) Award.
LEA named Ebeling for the award and identified 10 other educators for other awards this year — all nominated by LEA-member peers in their respective education fields.
Ebeling was chosen by the LEA board of directors to receive this year's Christus Magister Award — the most prestigious honor given by the organization. It is "presented to Lutheran educators who have made significant contributions to Lutheran education," according to information on the LEA Web site.
Before joining the Indiana District staff, Ebeling taught and served in administrative posts at Lutheran and public schools. He also served as facilitator to the church at-large with Concordia Publishing House and was superintendent of Lutheran schools for the Missouri Synod's Indiana District.
A resident of Bloomington, Ind., Ebeling is the 49th LEA member since 1965 to receive the Christus Magister Award.
The other educators named by LEA for 2007 awards are:
David Weidner, executive director of the Division for Congregational Services with the LCMS Florida-Georgia District, Orlando, Fla., Master Director of Christian Education.
Jim Halsted, director of Christian Outreach at Lutheran Church of the Risen Savior, Green Valley, Ariz., Master Director of Christian Outreach.
Cathi Niemeyer and Liz Schultz, co-directors of Touching Hearts Child Development Center, Lincoln, Neb., co-recipients of the Distinguished Lutheran Early Childhood Administrator honor.
Spencer Peregoy, St. John Lutheran School, Ellisville, Mo., Distinguished Lutheran Elementary Administrator.
Corey Nelson, Rochester Central Lutheran School, Rochester, Minn., Distinguished Lutheran Early Childhood Teacher.
Henry Wischmeier, St. Peter Lutheran School, Columbus, Ind., Distinguished Lutheran Elementary Teacher.
Kayla Luehmann, Living Word Lutheran School, Rochester, Mich., Outstanding New Lutheran Elementary Teacher.
Sue Van Luchene, Sekolah Dian Harapan, Lippo Karawaci, Indonesia, Distinguished International Teacher.
Mitzi Loughmiller, Lutheran High School, New Orleans, Outstanding New Lutheran Secondary Educator.
LEA, with offices in River Forest, Ill., is an LCMS Recognized Service Organization.
Posted Feb. 5, 2007