Interested volunteers may request applications for an Oct. 17-21 training event in Concordia, Mo., for "The 72 — Partners on the Road," formerly known as "Harvesters for Christ."

"The 72" is an outreach ministry of LCMS World Mission.

The training equips volunteers for helping host congregations start, e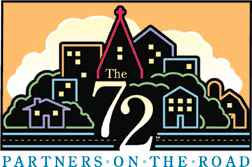 nhance, or expand outreach ministry in their communities.

To request an application, call (800) 433-3954, or send an e-mail to the72@lcms.org. Applications are not available online.

July 30 is the deadline for requesting applications.

Applicants may be couples or individuals, according to Rev. Al Torhoehlen, director of "The 72." He explained that while one married couple might serve as a congregation's "team," individuals make up three- or four-person teams.

Each volunteer team serves a congregation on-site for three or four weeks. The host congregation covers the cost of its team's housing, transportation, and meals.
When an application is submitted for "The 72" training event, it must include a letter a recommendation from the applicant's pastor, as well as information on each application that would be necessary to complete a basic background check.

All expenses for new team-member training for "The 72," including travel, will be covered by grant from the Marvin M. Schwan Charitable Foundation.

In a Reporter story last month, Tormoehlen stressed that " 'The 72' will help realize the Synod's Ablaze! goal of sharing the Gospel with 50 million unreached or uncommitted people in the United States by 2017," the 500th anniversary of the Reformation.
Posted April 27, 2007