Concordia Theological Seminary, Fort Wayne, celebrates the 50th anniversary of its campus Sept. 9.
Designed by Finnish architect Eero Saarinen — whose projects include the St. Louis Gateway Arch and Washington's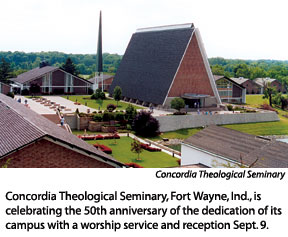 Dulles International Airport — the Fort Wayne campus opened in September 1957.
Anniversary festivities will include a brunch, music on the seminary's main plaza, a 3 p.m. worship service, and a 4 p.m. reception. U.S. Congressman Mark Souder (R-Ind.) is scheduled to speak at 2 p.m.
The campus at 6600 N. Clinton St. in Fort Wayne, Ind., housed Concordia Senior College from 1957 until 1977, when the college merged with an LCMS two-year college in Ann Arbor, Mich. — still in operation as Concordia University, Ann Arbor.
Concordia Theological Seminary relocated to the Fort Wayne campus in 1976 from Springfield, Ill., and has prepared pastors, missionaries, deaconesses, and other church workers at the site for more than 30 years.
All events at the anniversary celebration are free and open to the public, but pre-registration is encouraged. For more information, or to register, call Denita Krause at (260) 452-2223.
Posted Aug. 27, 2007